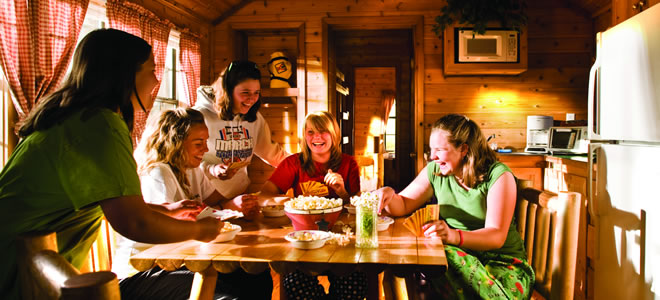 Weekends are made for two things: rest and rejuvenation. Got any of it lately? We thought so.
Quick weekend trips are the answer to long workweeks, homework, housework and all things reserved for Monday through Friday. It's amazing how a person's perspective changes after a quick trip.
---
Weekend Getaways Offer Easy, Inexpensive Retreats. Weekend trips can be put together easily and without huge expense, and KOA accommodations, whether a camping site or a cabin, are affordable and convenient. Most KOA locations are close to a variety of sites and activities for the activity-bound weekenders, while others offer a secluded outdoor hideaway for those wanting a serene retreat.
Travel doesn't have to be a big hassle or huge expense. Even at the last minute, you can plan a great weekend getaway close to home. KOA.com is always full of great ideas to help in the planning, so work your imagination and give your wallet (and yourself) a rest. Here are a few tips to make the quick weekend trip a reality.
---
Decide what kind of escape you need. Do you need a trip to be active, such as a water rafting or golf or do you need some relaxation and solitude? Is this going to be a weekend geared towards rekindling romance or one for hanging out with friends? Perhaps your family needs some good fun time away from distractions. Figure out what your itch is and what would remedy it.
---
Decide how far you want to go. Get a map and see what your options are for one, two, or three hours away (even more for the driving fan). Sometimes we forget the grass is green on in our own neighborhood. Chances are that the perfect weekend trip is just an hour or two away.
---
Next, turn to the Internet for deals. For a local escape, start by checking state tourism websites. These websites often feature special packages or discounts designed to bring visitors in to the state and are a good place to generate ideas on your own. Another good way to search out sites and activities is to search using keywords such as "weekend getaway Bozeman (name of city or area you will be in)." Or use "travel ideas Bozeman." Searches such as this bring up a huge amount of information on places to visit, things to see, food to try and special events in the area.
---
Use KOA.com as a resource. This website is geared to give people and families a comprehensive resource for camping and travel. Find the KOA you will be staying at and click on their website. Most individual KOA websites list activities and sites in the area. Also, each KOA website gives a comprehensive list of offerings at the campground and paints a good picture of the kind of campground they are. Some may have a calendar full of activities for the whole family like theme weekends, barbeques, and arts and crafts. Others may post their campground photos with scenery that begs, "Pull up a chaise lounge, grab a good book and destress the weekend away." KOA.com is loaded with planning information like fast and delicious camping recipe ideas, safety tips for the traveler, and a comprehensive checklist for weekend packing.
---
KOA offers the perfect accommodations for your weekend. Whether you have an RV or camper, a tent, or are cabin campers, KOA fulfills all your camping needs. Also making reservations on KOA.com is fast and easy. Whatever your overnight needs, KOA fits the bill.