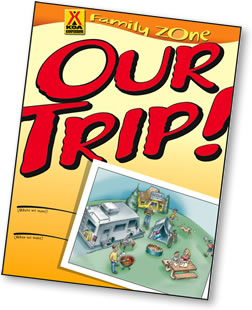 Organize all the resources you'll need on your camping adventure in our handy Trip Book. Create one for the whole family, or make multiple books tailored to each family member. Leave home with a handy resource, and return with a book stuffed full of memories.
---
First, print out our fun Trip Book cover. Add your names, and let the kids color in the picture or download a full-color version to print.
Next, print plenty of scrapbook pages for journal writing, drawings, photos and momentos.
Then, as you explore the KOA Family Zone, print the pages you find useful and add them to your book. Possible additions include:
Finally, be sure to include your own notes, maps, itineraries, and contact information for friends and family members.