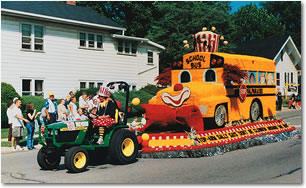 It may sound corny, but a poppin' good time awaits at the annual Valparaiso Popcorn Festival in northwestern Indiana.
Always held the Saturday after Labor Day, the festival celebrates native son Orville Redenbacher's memory with over 500 food and craft booths, games, the "Popcorn Panic" run and live music.
One of the most popular events is the popcorn parade, which usually starts at 10 a.m. Many of the colorful floats are fashioned from fluffy white popcorn kernels and then spray-painted to look like everything from a school bus to TV celebrities.
Valparaiso is just north of U.S. Highway 30 at the junction of State Highways 2 and 130, about 12 miles east of Merrilville.
The festival is wheelchair accessible. For more information, consult the Popcorn Festival website at www.popcornfest.org.
Interested in camping nearby? Check out KOA campgrounds in Indiana.