KOA Alberta "Where the Prairies Meet the Rockies"
Alberta is an IMAX experience. Prairies blanketed with wild flowers blend with rolling fields of wheat framing river valleys. Expansive grasslands stretch to each horizon meeting the ancient gray-walled canyons of the Badlands. A never ending blue sky joins the prairie to the mountains. One word describes Alberta…Awesome!
Experience a sense of place. To the west, aspens yield to pines that drape 80-million year old snow-capped peaks. The wilderness caresses the horizon. Ideal habitat for elk, bighorn sheep, moose, mountain goat and both grizzly and black bears, this is wild kingdom as seen on The Nature Channel. In the south, cattle mark the landscape and pronghorn sheep, white tail deer, coyotes, and eagles may be seen. Rodeos and BBQs, cowboy poetry and contemporary theatre make up the collage that is Alberta.
Go for the fun of it. Fun-loving and active, rodeos large and small provide opportunities to have good old-fashioned fun. Hang glide down a mountainside. Hike the Brule Sand Dunes and see old telegraph poles and the Grand Trunk Pacific Station trapped in time. Fish in an glacier stream. Raft a river following the routes traveled by the early fur traders. Take a snow coach trip out on the Columbia Ice Field or join a hike and stand on the edge of awesome crevices. Cruise Maligne Lake, the second largest glacier lake in the world and see Spirit Island, the most photographed island in the world.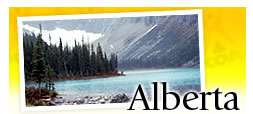 Not to be missed. Calgary Stampede is the mountaintop of the rodeo circuit, from the world-famous chuck wagon races to midway entertainment; it's the best in the West. The Royal Tyrrell Museum near Drumheller, is one of the largest museums of paleontology in the world, with more than 200 dinosaur specimens on display.