British Columbia
KOA camping in British Columbia
Offering more shades of green than can be imagined, plus clean fresh air, dramatic mountain peaks, raging white-water rivers, and miles of shoreline framing brilliant blue-green sea. British Columbia offers nature lovers a vacation smorgasbord. Leading edge sport and recreation options provide endless choices for a vacation.
Experience a sense of place. British Columbia is a destination with breathtaking natural beauty, western country charm and world-class city sophistication. Discover local markets with moccasins and masks, beadwork and antler art, Caribou hair-tufting and one-of-a-kind jewelry. Dine at an outdoor island café with the catch-of-the-day fresh salmon or salute the sunset from a mountain top with venison stew and blueberries the main course. Sleep in a tee pee, hike to a ghost town or try your luck at opal hunting.
Go for the fun of it. From moose spotting and wolf calling to whale watching and antique shopping, the possibilities for fun are endless. Western spirit is everywhere; soak in a natural hot spring or ride horseback along a wilderness trail; learn to line dance or cheer at rodeo competitions; fish in a remote cove or cast over an icy stream. Begin the day watching bears grab salmon and end it at a concert under the stars.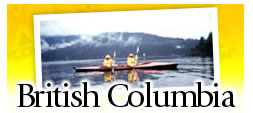 Not to be missed. Hike the trails of Mount Revelstoke and Glacier National Parks – two of the oldest national parks in Canada. Stroll Butchart Gardens. This fifty-five acre quarry site, is now a world-class garden complex on Vancouver Island, and offers visitors dramatic pathways, exquisite Sunken Garden and a not-to-be-missed Rose Garden. Enjoy the Okanagan Valley summer nights on Shuswap Lake nights, filled with fireworks and great entertainment.