Manitoba: The Red Coat Trail over the Prairies.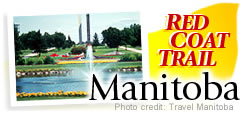 From east to west, level plains of the Red River Valley meet the uplands and wandering channel of the Pembina River. Dominant then as now, the Turtle Mountains were described by the adventurous explorer La Verendrye as "the blue jewel of the prairies." The original Red Coat Trail begins in the south-central Pembina Valley Tourist Region and piggybacks the Boundary Commission Trail.
Going beyond the boundaries. The town of Emerson, a by product of Fort Dufferin, has an Information Centre that explains The Boundary Commission Trail, the North West Mounted Police, and the arrival of the first Mennonite settlers. A larger-than-life statue of a policeman on horseback commemorates the founding of the NWMP in 1873. Fort Dufferin was the assembling point for the march west to what is now Fort McCleod in Alberta.
Keeping the peace. A lasting symbol of the long-standing peace between Canada and the United States, the International Peace Garden is memorable. The 2,339-acre botanical garden and park is located on the border of North Dakota and Manitoba. It provides walks for strolling, trails for hiking and a chapel for quiet contemplation. Japan's gift to the park, Seven Peace Polls in which, "May Peace Prevail" is written in twenty-eight different languages. Discovery: New within the complex is the September 11 Memorial which displays ten beams from the World Trade Centre in the formal garden. (15 miles north of Dunseith on Highway 3 Dunseith, ND 58329. 1(701) 263-4390 or www.peacegarden.com )
Seeing the big picture. Along the way Boissevain Outdoor Art Gallery features 24 giant outdoor murals that depict local history, from scenes of the first locomotive in Boissevain to the march of the NWMP. Over several summers, artists from all over Manitoba and Saskatchewan came to Boissevain to paint their murals. (Boissevain, MB R0K 0E0. Canada Tourism Office in Boissevain by phone at 1-800-497-2393 or www.boissevain.ca)
Not to be missed. Red serge and black horses! Representing tradition and ceremony through the horse and the scarlet uniform, the RCMP Musical Ride is a tribute to history and a salute to peace keeping. Each year The RCMP Musical Ride tours throughout Canada, the United States and other international venues, performing at approximately forty to fifty locations between the months of May and October. (For details www.rcmp-grc.gc.ca)
---
Reference Texts:
Macleod, R.G. The North-West Mounted Police and Law Enforcement 1873-1905. Toronto: University of Toronto Press, 1976.
Baker, William. The Mounted Police and Prairie Society 1873-1919. Regina: Canadian Plains Research Center, 1998.
Beahen, William and Stan Horrall. Red Coats on the Prairies: The North-West Mounted Police, 1886-1900. Regina: Centax Books, 1998.
© 2004 Content syndication services provided by Travel Communications, Inc.