By Pat Mestern, Field Editor, Fergus, Ontario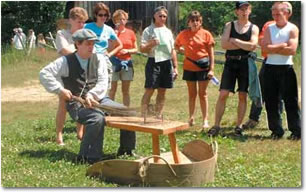 EVER SINCE I read Evangeline, Henry Wadsworth Longfellow's poem about the exiled French Acadians, I've wanted to visit Acadian Historical Village near Caraquet in northeastern New Brunswick.
I finally did so, and it was well worth the trip. This marvelous living-history museum accurately depicts the rich life and culture of the Acadians from 1770 through 1939. Acadians originally settled in Nova Scotia in the 1600s, but British forces expelled thousands of them in the mid-1700s; they subsequently resettled in areas ranging from Louisiana to Canada's Maritime Provinces.
We'd been told the site was huge, so my husband, Ted, and I stayed in the village at the Chateau Albert. We knew we'd have a great time when someone in 1920s clothing picked us up from an outlying parking lot in a 1923 Ford automobile!
The three-story wooden hotel was built from original 1900s blueprints. The ambience is authentic, right down to staff dressed in vintage costumes and rooms furnished with period furniture.
Our room overlooked some of the 32 old-time buildings in the village, each staffed with friendly and knowledgeable guides.
We began our tour at the Visitor Reception Centre by watching a 20-minute video about the Acadian culture. Then we traveled back through time, following a gravel road for about 1-1/2 miles through woods, pastures and homesteads.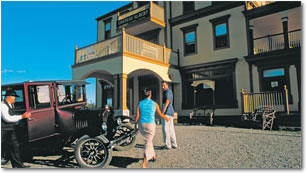 One of our first stops was at the 1770 Martin House, where we enjoyed a slice of bread hot from an outdoor brick oven. Later, we enjoyed tea in an 1840 stone croft house and cookies with a lady at her 1880s farm home.
Our wanderings also took us past a chapel, tavern, schoolhouse, general store and print shop. We also visited a gristmill, woodworking shop and shingle house, among many other historic structures.
For lunch, we dined on poutine rapee and pate rapee, Acadian potato-and-pork dishes served with molasses, ketchup, butter and brown sugar.
We arrived back at the hotel in time for supper in the dining room, which served many more early-1900s dishes. It was fun chatting with fellow visitors, which only added to our great experience at this fascinating attraction.
Fast Facts
Caraquet is on Highway 11 on the Acadian Peninsula in northeastern New Brunswick, about 68 miles northeast of Bathurst.
Acadian Historical Village (14311 Rt. 11) is on Highway 11, about 3 miles northwest of Caraquet. The village is open from 10 a.m. to 6 p.m. June 6 through September 12 and from 10 a.m. to 5 p.m. September 13 to October 9. For more information, call 1-877-721-2200 or visit www.villagehistoriqueacadien.com.
Rooms at Chateau Albert start at about $81 to $101 (in U.S. currency) a night for double occupancy. For details, call the village or visit www.villagehistoriqueacadien.com/hotel-chateau-albert.
More to See… The Popes Museum ( 184 Acadie St.) in Grand-Anse, about 6 miles west of Caraquet on Highway 11, includes a collection of gothic chalices and a scale model of the Vatican. It's open daily from 10 a.m. to 6 p.m. from June through September. For details, call 1-506-732-3003.
This KOA Travel Information is Sponsored by:
Reiman Publications