By Marty S., Natrona Heights, Pennsylvania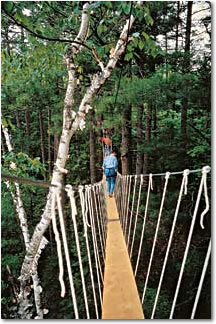 FOR a unique adventure, I highly recommend a walk in the treetops in the Haliburton Forest and Wild Life Preserve, a private 50,000-acre park in central Ontario's Haliburton Highlands.
This hike on an elevated boardwalk some 65 feet above the ground is part of a 4-hour guided trek through the gorgeous park, which includes 50 lakes, pristine old-growth forests and rushing rivers and streams. The tour includes a scenic van ride through the forest…a brief walk along the Pelaw River…and a canoe ride across a lake to the 1/3-mile-long canopy walk.
After some brief instruction and practice, you climb up a short ladder, hook your safety harness to an overhead cable and start walking along the planks. The boards are suspended by nylon ropes that are attached to steel cables connected to trees.
I was scared to death when I first set foot on the creaking and gently swaying boards. But once you gain confidence, you can relax and enjoy the awesome view. By the time I finished, I wanted to do it again!
The park abuts the southwest corner of massive Algonquin Provincial Park and is roughly 133 miles northeast of Toronto. The closest town of any size is Haliburton, at the junction of Highways 118 and 121.
The canopy walk tours start at 9 a.m. and 1:30 p.m. daily from mid-May through mid-October. No one under age 10 allowed.
For detailed information and directions, phone 1-705-754-2198.
Interested in camping nearby? Check out KOA campground locations in Ontario.
This KOA Travel Information is Sponsored by:
Reiman Publications