"The Land of Shining Waters."
KOA camping in Ontario
A tapestry of more than 70 cultures defines the scope of Ontario. The diversity enhances daily activities, sustains its rich history and fuels an attitude for discovery. The province links the cutting edge city-style of Toronto and Ottawa with dramatic waterways, enchanting lakes, mysterious islands and awesome forested wilderness. Ontario is inspiring.
Experience a sense of place. From shipwrecks and deserted islands to lighthouse tours and world-class gardens, the vacation experiences are bountiful. Only in Ontario, the Stratford Festival provides world-class theatre with performances for all ages. Music festivals, barn dances, fresh produce markets and all-you-can-pick berry fields provide a unique connection to the land. A unique micro-climate in the region allows vineyards to produce fine ice wine.
Go for the fun of it. Visit Parliament in Ottawa and watch the Changing of the Guards. Browse the Museum of Civilization which highlights the rich heritage of Canada's First Peoples. Search a cornfield maze or learn how to milk a cow. Cruise on a 19th century coal-operating steamship in Muskoka or a paddle wheeler in the 1000 Islands. Pan for gold in Timmins; unearth minerals in Bancroft; find amethysts near Thunder Bay or collect four-million-year-old sea fossils at Rock Glen Conservation Area. Fish the freshwater lakes for northern pike, walleye (pickerel), jumbo perch, smallmouth and largemouth bass.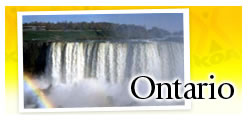 Not to be missed. Catch the view from the world's highest public observation gallery, the Skypod at CN Tower in Toronto. Skylon and Minolta towers in Niagara Falls provide amazing 80-mile views of the region. Experience the thunder of Niagara Falls , one greatest natural wonders in the world. Take the train from Sault Ste. Marie on the 114-mile excursion through Agawa Canyon . Stop at Old Fort William, once the world's largest fur trading post. See voyagers, clerks, Native Ojibwa, tradesmen and women, all in period dress, conducting business and going about their daily routine… time travel at its best.