By Linda A., Field Editor Qu'Appelle, Saskatchewan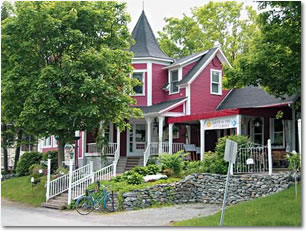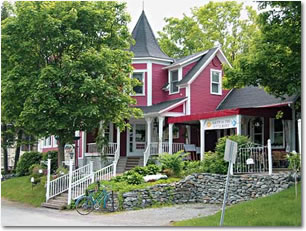 I'D ALWAYS HEARD that Quebec's Eastern Townships region is very beautiful. Even so, its charming village of North Hatley, sort of a French version of New England, exceeded my expectations on a recent trip.
"Picturesque" hardly begins to describe North Hatley, a dollhouse of a village nestled on the shore of magnificent Lake Massawippi. Settled in 1793 by Crown Loyalists who moved north after refusing American independence, the village retains its distinctive New England-inspired architecture.
Some buildings are close to 200 years old, and house art galleries, antique shops, cafes and bed-and-breakfasts whose very names reminded me this definitely isn't New England. I browsed happily through quilts, crafts and knickknacks at Passerose Vetements Cadeaux, then lunched at Le Pilsen on traditional French-Canadian pea soup and rich, creamy cheesecake.
A 34-mile bike and footpath that heads north to Sherbrooke along the Massawippi River starts here, offering a wonderful way to work off some of that cheesecake. I opted for a walk, enjoying scenic overlooks until the sun sank below the Appalachian Mountains.
I'd splurged on a stay at the elegant Auberge Hatley and enjoyed a sumptuous eight-course meal at its renowned restaurant. Later, I lingered on my room's balcony. Gazing at the glowing lights of this delightful town reflected in the lake, I could only say, "C'est magnifique!"
Before You Visit… North Hatley is in southeastern Quebec on Highway 108, about 6 miles east of Canadian Autoroute 55 (which becomes I-91 in the United States, about 25 miles to the south) and about 95 miles east of Montreal.
For more information about North Hatley, call Tourism Eastern Townships at 1-819-820-2020 or visit www.easterntownships.org/city/45050/north-hatley.
Le Pilsen (55 rue Principale) opens at 11:30 a.m. Monday through Saturday and at 11 a.m. Sunday. For details, call 1-819-842-2971.
Rates at Auberge Hatley (325 chemin Virgin) vary by season and accommodation.
For details, call 1-800-336-2451 or log on to www.northhatley.org.
More to See…
The Haskell Free Library and Opera House in Derby Line, Vermont, straddles the international border, allowing visitors to stand in the United States and Canada at the same time. Call the library at 1-802-873-3022 or visit www.easterntownships.org.
Interested in camping nearby? Check out KOA campground locations in Quebec.
This KOA Travel Information is Sponsored by:
Reiman Publications