"Land of the Living Skies."
From almost anywhere one can see forever. The horizon line is sharp, supporting the expansive sky marked by a scattering of picture-perfect clouds. The land spans semi-arid grasslands and grayed coulees to rolling meadows, glacier valleys and boreal forests. Saskatchewan is serene and beautiful.
Experience a sense of place. Whether you're hiking, canoeing, fishing, horseback riding, or out for a stroll, the prairie is intoxicating. With almost five million acres of protected provincial and national parkland, the opportunities for wildlife viewing and birding are endless. Depending on the season fresh markets have rhubarb, asparagus and bison jerky and bannock. It is possible to find chokecherry jam, Saskatoon berry pie and succulent black raspberries.
Go for the fun of it. Attend a pow wow conducted by one of the many First Nations Peoples. Watch the bison at Buffalo Pound Provincial Park in Nicolle Flats Nature Area of the Qu'Appelle Valley. Hike grasslands punctuated with cactus flowers and ancient ceremonial stones. Pick Saskatoon berries. See sage grouse strutting in an elaborate mating ritual; count prairie dogs as they chatter. Canoe along docile waterways; fish under the drama of a prairie sky at dawn or discover the home of a burrowing owl. Watch pronghorn antelope at sunset. Listen to haunting howl of a wolf on a quiet northern night.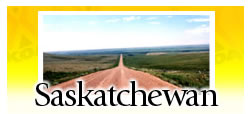 Not to be missed: The campus of the RCMP in Regina has tours and ceremonies weekly. The Science Center in Regina, once a power plant, now has the tallest climbing wall in all of Canada. The Royal Saskatchewan Museum showcases the world. Artful dioramas of a bear's den and a beaver's nest complete with sound effects. Some of the best birdwatching in North America is at Chaplin Lake. For a bit of interactive time travel, walk the secret tunnels of Moose Jaw.