Two Iowa farmers turned a winter hobby into an astonishing collection of intricate wooden clocks.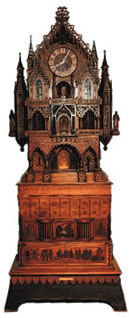 The Bily Clock Museum in Iowa is probably one of the most unusual museums you'll ever see.
It stands in pretty Spillville, a Czech community of 400 or so residents. The town has an Old World feel, complete with an old-fashioned town square and well-kept homes.
The museum features 40 incredibly detailed handcarved clock cases, all made by two farming brothers, Czech immigrants Frank and Joseph Bily (pronounced "bee-lee").
Woodcarving came naturally to the brothers-the perfect hobby for passing the long Iowa winters. They even made their own tools, and carved some of the clocks' working parts from wood as well.
From about 1915 to 1958, the brothers carved 40 clocks, each a unique and amazing work of art. Some are monumental, standing over 10 feet tall and weighing 500 pounds. Many of the clocks contain chimes, handmade music boxes and animated carved figures.
Czech composer Antonin Dvorak spent the summer of 1893 in Spillville, and the museum is housed in the home where he stayed. An exhibit is also devoted to Dvorak, who wrote a quartet and put the finishing touches on his New World symphony while residing here.
While you're here, you should also stop at St. Wenceslaus Church, where Dvorak played the pipe organ for Mass every day. The organ, installed in 1876, is still there.
In 1946, the Bily brothers moved their entire clock collection to its current location and willed them to the town. The brothers died in the 1960s, and never sold any of their clocks-not even when Henry Ford offered to buy one for $1 million! Words can't begin to describe the beauty of these incredible carvings-come see for yourself!
Fast Facts
Spillville is on State Highway 325 in northeastern Iowa, 73 miles northeast of Waterloo and 4 miles west of U.S. Highway 52. The museum is located at 323 S. Main St. and is wheelchair accessible. To learn more, visit www.bilyclocks.org.
More to See… The Vesterheim Norwegian-American Museum in Decorah, about 13 miles northeast of Spillville via Highway 325 and U.S. Highway 52, is one of the largest immigrant museums in the United States. It covers most of a city block and includes a hotel, a three-story ship gallery, a stone mill, a log school, pioneer homes and much more.
Decorah is where Highway 52 meets State Highway 9. The museum is located at 523 W. Water St. and is wheelchair accessible. To learn more, visit http://vesterheim.org.
Interested in camping nearby? Check out KOA campgrounds in Iowa.