Ohio town honors its German roots by serving up tons of savory bratwurst-you never "sausage" a sight!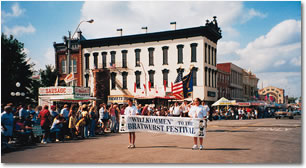 In August, the residents of Bucyrus, Ohio hang out the "Wilkommen" sign and hold a hearty celebration of their German heritage with a rousing Bratwurst Festival.
As you might guess, this celebration revolves around bratwurst, a German pork sausage. But these aren't just any old brats-they're tasty Bucyrus bratwurst, made using local recipes handed down from generation to generation.
During the course of this 3-day festival, volunteers slow-cook about 27 tons of brats over open fires on Sandusky Avenue. Talk about a heavenly aroma!
Try a brat on a rye sandwich roll, smothered with chopped onions, sauerkraut and hot mustard-it's delicious! There's also bratwurst pitas with a secret topping and bratwurst casserole. Add more than 100 other foods to the festival's "menu" and you'll understand why this is one of Ohio's premier celebrations of German gemutlichkeit ("good life").
The festival starts at noon on Thursday with a unique flourish. A resident runs down Sandusky Avenue to deliver a brat on a silver tray to the outgoing festival queen. She then takes the first bite of a brat, kicking off the festivities.
But food is only part of the fun. The town holds a different parade every evening, plus craft demonstrations, live music, carnival rides and bratwurst- and cream puff-eating contests.
As you stroll around and check out the food vendors, you'll see an added attraction: a colorful 130-foot-long, 34-foot-high mural entitled Great American Crossroads. Painted by Eric Grohe of Marysville, Washington, the mural depicts the town as it looked at the turn-of-the-century. It's very impressive. Another large Grohe mural, Liberty Remembers, is a half block north on Sandusky Avenue.
During the festival, you can park your motor home at the nearby Crawford County Fairgrounds and take a convenient shuttle bus downtown. All in all, it's a great way to experience small-town America at its best-and "wurst!"
Fast Facts
Bucyrus is about 20 miles northeast of Marion at the junction of State Highways 4 and 98.
The Bratwurst festival is held on Thursday through Saturday over the third full weekend in August. For more information, visit www.bratfest.org.
More to See… About 30 miles east of Bucyrus on U.S. Highway 30 is Mansfield, home of the beautiful Kingwood Center, featuring brass tycoon Charles King's magnificent French provincial mansion surrounded by 47 acres of stunning gardens. For details, log on to www.kingwoodcenter.org.
Interested in camping nearby? Check out KOA campgrounds in Ohio.