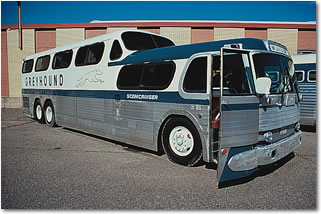 Most people don't know that Greyhound Bus Lines was founded in Hibbing, Minnesota-or that it's also home to an interesting museum that traces the company's history.
The Greyhound Bus Museum features hundreds of Greyhound artifacts and memorabilia, including driver uniforms, depot signs and, best of all, actual buses.
Especially interesting is the 1914 Hupmobile that Swedish immigrants Carl Wickman and Andrew "Bus Andy" Anderson used to start their bus line in 1914; they drove miners just 2 miles between Hibbing and a small mining town called Alice-for only 25¢ a round-trip! Another favorite is the 1948 Silverside, with it's distinctive fluted aluminum siding, and the 1956 GMC Scenicruiser (shown here).
Hibbing is about 75 miles northwest of Duluth, at the junction of State Highway 73 and U.S. Highway 169.
The museum is located at 1201 Greyhound Blvd. and is wheelchair accessible.
For details, visit www.greyhoundbusmuseum.org.
Interested in camping nearby? Check out KOA campgrounds in Minnesota.