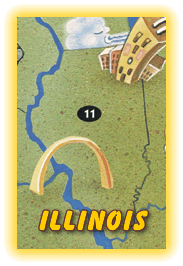 The story of two centuries. Lewis and Clark State Historic Site Interpretive Center is located at the mouth of the Wood River and across from the confluence of the Mississippi and Missouri Rivers. This area, known as Camp Dubois, was the launching point for the journey. The almost 60 acres includes the Interpretive Center, the Lewis and Clark Monument, and an expansive view of the wetlands and dry prairie. Visitors can see what Lewis and Clark did on launch day two hundred years ago. The Interpretive Center, interactive from the word go, provides ways to become involved. Activities focus on the planning of the expedition, from the "load-a-boat" action to the well-positioned journaling stations, history is alive.
Each year in May they host a living history event that includes celebrating the Lewis and Clark Expedition preparation and departure. A Camp Dubois replica is being constructed next to the Interpretive Center. When completed it will mark the last of the three Lewis and Clark winter camps reconstructed along the trail. FYI: The Confluence Bikeway runs through the site providing access to bicyclists from the St. Louis and Alton areas. (Route 3 at Poag Road, Hartford. 1(618) 251-5811 or www.campdubois.com)
This information has been supplied to KOA.com by Amanda Nelson-Duac of thefamilytravelfiles.com Travel Communications, Inc.
Online Travel Magazine, Marketing and Content Services
Main Office:
16913 Rolling Rock Dr.
Tampa, FL 33618
(813) 968-4799
© 2003 Travel Communications, Inc.
Content syndication services provided by TheFamilyTravelFiles.com