Oh, the sun shines bright on this charming river town.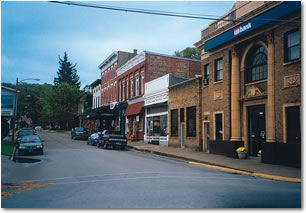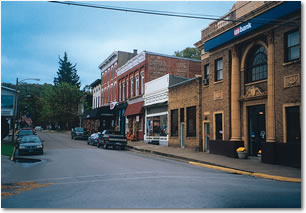 It's easy to see why folks believe that charming Augusta, Kentucky inspired composer Stephen Foster to write My Old Kentucky Home. After a visit here, who wouldn't long for this picturesque Ohio River town and its 1,400 friendly residents?
You can drive to Augusta, but it's fun to take the ferry, one of only two left on the river, from Ohio. The view of stately 18th and 19th century buildings along Front Street is enchanting. It may even look familiar, if you've seen the movie Centennial, based on James Michener's book of the same name.
Crossing the river takes about 15 minutes, and the ferry docks right by the Beehive Tavern restaurant, which comes highly recommended. Servers in the 1796 building wear period clothing, adding to the incredible ambience.
The food here is excellent. If you're lucky enough to get a balcony table, don't let the panoramic view of riverboats chugging by distract you from a great meal of prime rib or orange roughy.
A walk down quiet Main Street leads you past antique and gift shops. Beyond that you'll find fine homes and more quaint stores.
If you visit in June, you could enjoy the riverboat races in the Sternwheel Regatta (usually held on the last full weekend in June). But Augusta's friendly people will welcome you any time-and some are bound to tell you that the late Rosemary Clooney lived here, as did her nephew, movie star George Clooney.
After one visit, you'll understand why Stephen Foster talked so eloquent about this special place.
Fast Facts
Augusta is in northeastern Kentucky, where State Highways 8 and 19 meet, about 40 miles southeast of Cincinnati. To learn more, log on to www.augustaky.com.
The Ole Augusta ferry (1-606-756-2151) connects U.S. Highway 52 in Ohio and Highway 8 in Kentucky and usually operates from 8 a.m. to 8 p.m. daily, weather permitting.
The Beehive Tavern is located at 101 W. Riverside Drive and is wheelchair accessible. For reservations, call 1-606-756-2202.
Interested in camping nearby? Check out KOA campground locations in Kentucky.