Did you know you can wade across the Mississippi River?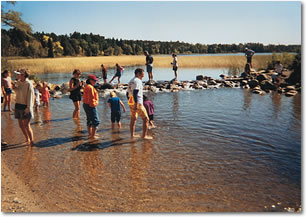 Yes, you can cross the legendary river on foot in 32,000-acre Itasca State Park in north-central Minnesota, where the river begins its 2,552 miles journey to the Gulf of Mexico. Here at the river's headwaters, it's just a small stream that you can cross on stepping-stones.
You could easily spend a couple hours in this wilderness area, learning all about the river. Special events are held year-round, and the park is a great place for biking, hiking, swimming, boating and fishing.
Established in 1891, Itasca (36750 Main Park Dr.) is Minnesota's oldest state park. It includes more than 100 lakes. The entrance is 30 miles south of Bemidji on U.S. Highway 71. For details, consult Itasca State Park online.
Interested in camping nearby? Check out KOA campgrounds in Minnesota.