Bishop Castle is a monument to one man's sheer determination and imagination!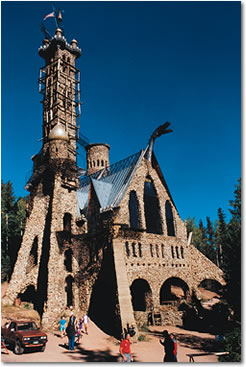 Nestled among the pine tree-covered mountains in south-central Colorado stands a totally unexpected sight-a fantastical Medieval-style castle with 1-foot-thick stone walls.
This gigantic 160-foot-high castle is still growing, week by week, month by month, year by year, courtesy of visionary Jim Bishop, who's been working on it since the summer of 1969.
The castle is a monument to Jim's diligence. An ironworker by trade, he's hauled more than 1,000 tons of rock from nearby creek beds and rock slides to create his masterpiece.
One of the castle's most eye-catching features is a giant chimney topped with a stainless steel dragon head that belches smoke. Jim fashioned the giant head-the lower jaw is more than 7 feet long-from scrap steel.
Several years ago, he also installed an antique cast-iron church bell and a school bell in the castle's 100-foot-high Andreatta Tower, named for the longtime friends who donated the bells.
You're liable to see Jim at work while you're there. Maybe he'll be mixing concrete mortar, pouring it into buckets and hoisting them up to the castle's third floor with a homemade pulley.
There is no admission charge to see the castle, which is open every day. You see, Jim wants everyone to see his unique one-man work of art. But he gladly accepts donations to keep his project going, and he donates a percentage of the daily contributions to the Bishop Castle Foundation for Newborn Heart Surgery.
Clearly this man's heart is a big as his castle!
Fast Facts
Bishop Castle is located just west of U.S. Highway 165, about 50 miles southwest of Pueblo via I-25. From I-25, take Exit 74 and head northwest for 24 miles on Highway 165. Look for a sign outside the castle.
More to See… Nearby historic Pueblo offers a host of interesting attractions, including the new 26-acre Arkansas Riverwalk area downtown…the Fred E. Weisbrod/International B-24 Memorial Museum…the eclectic Rosemount Museum…and a rare fully restored Parker carousel, a hand-carved wooden beauty built in 1911. For details, visit www.pueblo.org.
Interested in camping nearby? Check out KOA campgrounds in Colorado.