Suspended above I-80 in Nebraska, "The Arch" honors America's great Westward migration.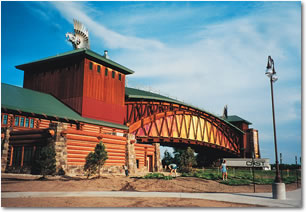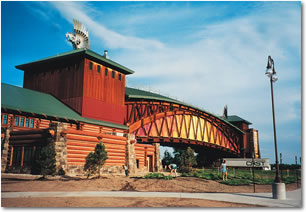 Travelers in central Nebraska near Kearney usually do a double take when they see the Great Platte River Road Archway Monument looming 30 feet high over I-80.
"The Arch," as locals call it, is the only tourist attraction in the United States built over an interstate highway. Thousands of folks pass under the 1,500-ton, 308-foot-long span every day!
As its name suggests, the state-of-the-art museum tells the story of the Great Platte River Road. Over the years, the Oregon, Mormon and California Trails, the Pony Express, the transcontinental railroad and telegraph and the interstate highway system have traversed this historic route.
From the interstate, the museum-anchored by 8-story-high towers at each end-looks like a giant covered bridge. After you step into the lobby and don a pair of earphones, you'll board a long escalator (the longest in Nebraska) that seemingly ends in the rear of a covered wagon.
Then you begin your adventure through chronologically arranged exhibits. Radio-operated earphones explain what you're seeing as you move from one exhibit to another.
You'll see wagon trains and Fort Kearny, a buffalo stampede, a Pony Express rider exchange, Model T's stuck in muddy ruts a la The Grapes of Wrath, a classic drive-in theater and early-day touring on the Lincoln Highway, the first transcontinental highway in the U.S.
It takes about an hour to see the entire museum. But you can go as fast or as slow as you want. There's nothing like this museum anywhere!
Fast Facts
The Great Platte River Road Archway Monument straddles I-80 at Kearney (Exit 272), 130 miles west of Lincoln. Just follow the frontage road 2 miles to a free parking lot.
The museum is handicapped accessible. For details, go to www.archway.org.
More to See…The unique Harold Warp Pioneer Village near Minden is about a 20-mile drive southeast of Kearney, near the junction of State Highway 10 and U.S. Highways 6/34. For more information, see www.pioneervillage.org.
Interested in camping nearby? Check out KOA campgrounds in Nebraska.