Westward ho the wagons! The Museum of Westward Expansion is part of the Jefferson National Expansion Memorial in St. Louis. This museum is located under the Arch and provides visitors with 100 years of human history related to the American westward movement. This museum is world-class; it provides hours of interesting viewing and interaction. The "rangers" (docents) provide visual reinforcement to the significance of the journey made by Lewis and Clark. Beautiful murals depicting scenes along the Corps of Discovery's route are described in Captain Lewis' own words using excerpts from his journal. FYI: From the museum Website there is a page link for kids that provides oodles of great information. There are audio clips, an excellent interactive map and a variety of activities for kids. (11 North 4th Street, St. Louis. 1-(314)-655-1700 or The Museum of Westward Expansion)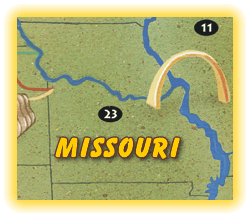 Stockin' up and headin' out. The Lewis and Clark Center is a small friendly museum located in St. Charles; where the Corps picked up supplies to sustain themselves as they moved westward. The facility focuses on the unique role the town and its residents played in helping facilitate the progress of the Expedition. On display is information about the members of the Expedition, the tools they used, and the journals they kept. Visitors will also see examples of the discoveries made about the fauna and flora on the new frontier and learn more about the uniqueness of the North American Indian cultures encountered by the Corps on their journey. (1050 S. Riverside Drive, St Charles. 1 (636) 947-3199 or visit their website).
Try to walk the walk. The Lewis and Clark National Historic Trail in Katy Trail State Park provides a fascinating journey for hikers and bikes alike. Katy Trail is a two hundred-mile stretch that covers much of the same route as the explorers. Designated historic by the U.S. Department of Interior, the trail parallels the Missouri River from Machens to Boonville. (Currently only about 165 miles of the route is open for use by hikers and bicyclists. 1 (573) 526-4522 or www.nps.gov/lecl/index.htm).
Be in the Spirit of the West. Fort Osage is located on the Missouri River northeast of Independence. This fort was the first permanent fort established following the Louisiana Purchase; it salutes the resourcefulness, stamina and courage of its residents. Built in 1808, under the direction of William Clark, the Fort served in a dual role as military garrison and trading center. Today the reconstructed Fort overlooks the Missouri River and is portrayed as it was in 1812. Visitors will see authentically attired interpreters using living history to make the daily life of the Fort's military and civilian population seem real. (Sibley. 1 (816) 795-8200, Ext. 1-260 or at the fort. 1 (816) 650-5737 or www.fortosagenhs.com)
Find the vanishing river. Missouri National Recreational River is based at Lewis and Clark Visitor Center near Yankton. Staff members provide useful information and maps that identify lesser-known Lewis and Clark sites along the Nebraska and South Dakota border. Rangers conduct daily programs for visitors during the summer months. Topics relate to the Missouri River as well as the Corps of Discovery encounters unique to the area. (121 Hwy, US Army Corps of Engineers Gavins Point Dam. 1 (402) 667-2550 or www.nps.gov/mnrr/index.htm
© 2003 Travel Communications, Inc.
Content syndication services provided by TheFamilyTravelFiles.com