From Sputnik to Apollo and beyond, the Kansas Cosmosphere and Space Center has the right stuff.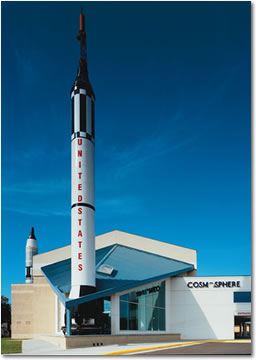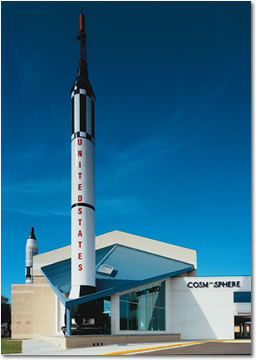 You'd never expect to find one of the world's most comprehensive space museums in the middle of rural Kansas. But that's exactly what awaits you at the Kansas Cosmosphere and Space Museum in Hutchinson, located in south-central Kansas.
Believe it or not, this 105,000-square-foot facility has the largest collection of spacesuits in the world, as well as one of the most significant gatherings of Russian and American space artifacts around. Step inside this museum and you'll definitely feel as though you're not in Kansas anymore!
You know you're in for something special when you step into the museum's spacious lobby and see a full-scale replica of the Space Shuttle Endeavor hanging from the ceiling. Suspended along with it are a rare SR-71 Blackbird spy plane, the fastest plane ever built, and a Northrop T-38 Talon. Talk about your lasting first impressions!
There's also the fascinating Hall of Space Museum, which chronologically tells the story of the Space Race. You'll see extremely rare German V-1 and V-2 rockets from World War II…Cold War relics like the Bell X-1 rocket plane and Sputnik…the actual Apollo 13 command module Odyssey…and a full set of the Mercury, Gemini and Apollo spacecraft and their Russian counterparts-Vostok, Voskhod and Soyuz. It's nothing short of amazing to see all this space history packed into a handful of galleries.
The museum also offers a first-rate planetarium, one of the first IMAX Dome Theaters and numerous educational programs.
Why is this marvelous facility, closely affiliated with the Smithsonian Institute's National Air and Space Museum, standing in the middle of the Kansas prairie? Well, the museum was originally known as the Hutchinson Planetarium; local resident Patty Carey founded it in 1962 at the Kansas State Fairgrounds. In 1966, it was moved to the Hutchinson Community College campus.
While planning an expansion in 1976, Patty turned to Max Ary, who was the director of the Noble Planetarium in Ft. Worth, Texas, and is a noted expert on American space artifacts and the history of space exploration.
Ironically, Max had worked at the Hutchinson Planetarium while he attended college. And when Patty contacted him, he was serving on a Smithsonian committee that was trying to find a home for literally tens of thousands of space artifacts. So when Patty asked him if he had a good idea for a museum, well, you can guess the rest of the story!
The museum also offers a host of educational programs like the Elderhostel Astronaut Training Program, a week-long camp for folks age 55 and older…a Future Astronaut Training Program, a summer camp for youths interested in space careers…and several other hands-on seminars, exhibits and classes.
Fast Facts
Hutchinson is 45 miles northwest of Wichita, near the junction of U.S. Highway 50 and State Highway 61.
The Cosmosphere is located at 1100 N. Plum and you can visit them online at www.cosmo.org.
Interested in camping nearby? Check out KOA campgrounds in Kansas.
This KOA Travel Information is Sponsored by:
Reiman Publications