At Colorado's Meeker Classic, canines and their handlers vie to become top dogs of the sheep herding world.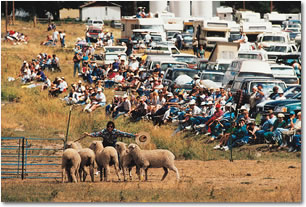 In early September, the remote northwestern Colorado town of Meeker-population 2,300-hosts North America's biggest sheepdog herding competition: the Meeker Classic.
If you've never attended a sheepdog trial before, you don't know what you're missing. There's nothing more exciting than watching a sheepdog, usually directed by nothing more than whistle commands, successfully complete a series of complex herding maneuvers.
These are no ordinary sheep, either. They're infamously wild Meeker sheep-unbroken, wily yearlings brought in fresh from their Wyoming summer pastures, where fences and border collies are nonexistent. These critters are as rebellious as teenagers!
It's said that herding these "mighty muttons of Meeker" is like playing a game of hockey with five pucks, and that's pretty accurate. After watching the dogs and their handlers in action, you'll agree that the teamwork they demonstrate is nothing short of amazing. It's a symphony of cooperation and coordination-and it's absolutely spellbinding to watch.
The dogs, usually border collies, are the real stars. They're unbelievably intelligent and incredibly devoted. One of their best herding weapons is their penetrating stare-even the most belligerent sheep'll think twice when a border collie gives it a patented "make my day" glare!
Now in its 15th year, the competition pretty much runs the same way each year. On the first three days, roughly 150 competitors from all over North America compete in elimination trials. Semi-final competitions are held on Saturday morning, and the more technically challenging finals are on Sunday morning. At stake is a purse of more than $12,000!
In the elimination trials, the dog and its handler are positioned 500 yards away from five sheep. On command, the dog races in a wide arc until it's behind the sheep.
Then the dog's objective is to bring the sheep "home" in as straight a line as possible. Along the way, the dog must herd the sheep through two sets of two gates each, then gather them inside a 120-foot-diameter circle and separate two banded sheep from the rest. Its last task is to gather the five sheep together again and herd them inside a corral. The faster all this is accomplished, the better the score.
The semi-finals and final competitions are basically the same, except that 10 sheep are used and the challenges are even tougher.
There's more to enjoy here than just the competitions, however. The event also features a craft festival… performances by bagpipe players…pancake breakfasts…and the ever-popular Rio Blanco County Wool Growers lamb barbecue on Sunday.
Add to all this the dramatic backdrop of some of Colorado's finest scenery and you've got an event that's as stirring as any sporting event you've ever attended.
Fast Facts
Meeker is in northwestern Colorado, roughly halfway between Rifle and Craig on the stretch of State Highway 13 that runs from U.S. Highway 40 down to I-70.
The 5-day event usually starts on the Wednesday after Labor Day. There's limited bleacher seating, so consider bringing a chair or blanket. For more details, consult the Meeker Classic website at www.meekersheepdog.com.
More to See… The White River Museum boasts an interesting collection of artifacts that showcase Meeker's Western heritage.
Interested in camping nearby? Check out KOA campgrounds in Colorado.