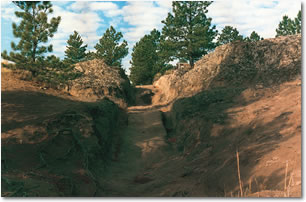 A remarkable chapter in American history is carved in stone in Wyoming!
Want to literally get in touch with the Oregon Trail? Head for southeast Wyoming, where you can actually walk in wagon wheel ruts and see pioneer "graffiti" dating back to the mid-1800s.
These fascinating remnants of the 1,930-mile-long trail, which stretched from Independence, Missouri to Oregon City, Oregon, are showcased at two historic sites just south of Guernsey. This is where the Oregon Trail began to climb out of the flat North Platte River Valley and onto the rugged High Plains.
At the Oregon Trail Ruts State Historic Site, about 1 mile south of Guernsey, you'll marvel at the ruts-some of them 5 feet deep- that thousands of iron-rimmed wagon wheels carved into the steep sandstone banks of the North Platte. A typical wagon was 4 feet wide and 12 feet long, and heavily loaded with supplies.
It's humbling to stand in these ruts, which are among the best preserved anywhere along the trail. It's easy to imagine the hardships faced by the estimated half-million pioneers who undertook this arduous journey.
About 4 miles south of Guernsey, at mile 658 of the trail, stands Register Cliff State Historic Site, which served as a sort of outdoor guestbook for the pioneers. Eager to tell the folks following behind them that they'd made it that far, thousands of pioneers carved their names and the date on this large sandstone outcropping.
Hundreds of names are still visible today; the oldest one dates back to 1847. As you read the names, you can't help but wonder what fates befell these brave pioneers.
These two sites, which also feature interpretive signs to help visitors understand what they're seeing, speak volumes about a great human migration across a vast continent. These hardy souls journeyed into the unknown, forging a trail so others could follow.
Fast Facts
Guernsey is located along U.S. Highway 26, about 80 miles north of Cheyenne and roughly 25 miles east of I-25. To get to the sites, which are open year-round, weather permitting, head south off Highway 26 on Wyoming Avenue in downtown Guernsey. Follow the signs from there.
For details, check out http://wyoparks.state.wy.us online.
More to See… The Fort Laramie National Historic Site is about 13 miles east of Guernsey. Founded in 1834 as a fur-trading post, the fort evolved into a military post that offered protection to travelers on the Oregon Trail. Some 22 original structures remain, including "Old Bedlam," the soldiers' quarters-the oldest building in Wyoming.
The site is located at 965 Gray Rocks Rd. and is wheelchair accessible. For details, visit www.nps.gov/fola/index.htm.
Interested in camping nearby? Check out KOA campgrounds in Wyoming.