By Nancy J., Field Editor, San Dimas, California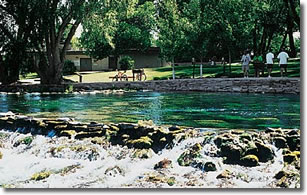 MY FAMILY always enjoys stopping at Giant Springs State Park in Great Falls, Montana.
The park is named for the huge spring discovered in 1805 by the Lewis & Clark expedition. Giant Springs is one of the world's largest freshwater springs, with a daily flow of 338 million gallons of water a day! The crystal-clear spring is beautiful, as is this entire area.
The spring empties into the Roe River, which runs only 201 feet before flowing into the mighty Missouri River. That makes the Roe the world's shortest river—it's in the Guinness Book of Records.
The 25,000-square-foot Lewis & Clark National Historic Trail Interpretive Center, which is nearby, is a wonderful museum. Inside you'll find interactive displays, dioramas and videos about the Corps of Discovery's epic journey. It's a must-see!
Great Falls is in central Montana where I-15 and U.S. Highway 87 converge. Located 1 mile east of Highway 87 on River Drive, Giant Springs State Park is open daily. For details, call 1-406/454-5840 or consult http://fwp.mt.gov/education/youth/lewisAndClark/visit/giantSprings.html.
For details about The Lewis & Clark Center call 1-406/727-8733 or refer to www.fs.fed.us/r1/lewisclark/lcic.
To learn more about other area attractions, call the Great Falls Convention & Visitor Bureau at 1-406-761-4434 or visit greatfallscvb.visitmt.com.
Interested in camping nearby? Check out KOA campgrounds in Montana.
This KOA Travel Information is Sponsored by:
Reiman Publications