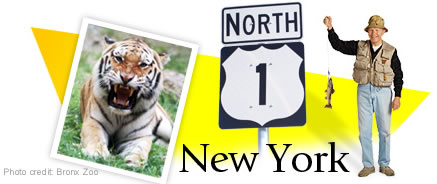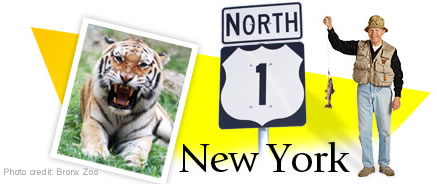 New York City U.S. Route 1
Leaving Massachusetts the route continues through Rhode Island and Connecticut. It meets with New York and provides visual chaos as part of its charm. Only the most ardent of road adventurers will attempt to follow the route through the densely populated New York area. The city is an endless adventure filled with a lifetime of places to explore but sticking to U.S. Route 1, two attractions stand out as worth the traffic.
Take time to smell the roses. A natural emerald along the way, the New York Botanical Gardens is an awesome complex containing 48 magnificent gardens on a 250-acre historic site. It is one of America's grand gardens showcasing plant collections dramatically landscaped within the National Historic Landmark site. The jewel of the complex is The Enid A. Haupt Conservatory, the largest Victorian glasshouse in America. With each season, Haupt Conservatory offers an ecotour around the world and children are drawn to the discoveries waiting in the Everett Children's Adventure Garden. (Bronx River Parkway at Fordham Road Bronx, New York, 10458. 1(718) 817-8700 or www.nybg.org)
Talk to the animals. One of the largest zoos in North America, the 265-acre Bronx Zoo is home to more than 4,000 animals. Featuring state-of-the-art exhibits and unique habits for endangered species, every visit is an adventure. The Himalayan Highlands habitat provides a home for endangered snow leopards, red pandas, Temminck's tragopan (a kind of pheasant), and white-naped cranes. JungleWorld re-creates an Asian rain forest – complete with mangrove swamp and scrub forest. The award-winning Congo Gorilla Forest emerges visitors into the spectacular home of Colobus monkeys, okapi, and lowland gorillas with just and inch and a half of glass between you and them! The Children's Zoo allows youngsters to crawl, climb, and explore simulated animal habitats. Discovery: New to the complex and not-to-be missed, is Tiger Mountain a year-round, 3-acre habitat for Siberian tigers. (Bronx River Pkwy & Fordham Road, Bronx, New York, 10460. 1(718) 367-1010 for general recording or www.bronxzoo.com)
Not far from the zoo, over the George Washington Bridge, U.S. Route 1 moves south through New Jersey and meets with the only toll bridge along its length just as it enters Pennsylvania.
---
© 2004 Travel Communications, Inc.
Content syndication services provided by TheFamilyTravelFiles.com