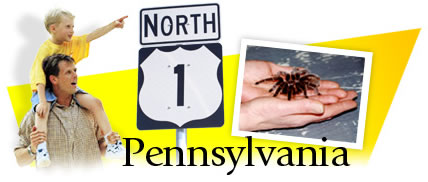 Pennsylvania U.S. Route 1
As in Colonial times, Route 1 departs the New York area with Philadelphia as its focus. The transverse through New Jersey has commercial distractions and industrial symbols that are very much part of this eclectic roadway. Slow going most of the time, but Philadelphia is worth the effort. Provided for inspiration are some of the best things to do along the way.
Meet Big Bird, Elmo, and Cookie Monster. Sesame Place, the nation's only theme park based on the award winning television show Sesame Street, is an Interactive play experience for families with children ages 2 – 13. The park contains 14 thrilling water attractions and loads of interactive experiences, live stage shows, a parade and a roller coaster. Big Bird, Elmo, Cookie Monster and the other lovable characters from Sesame Street not only perform in shows; they greet visitors throughout the day. (100 Sesame Road Langhorne, Philadelphia 19047. 1(215) 752-7070 or www.sesameplace.com)
Just bug off! At the Philadelphia Insectarium, the largest insect museum in the nation, it's an insect's world. The facility has thousands of live as well as mounted insects. The facility contains oodles of interactive displays, a movie-room, and a zany staff to make any visit fun. Tour three floors, see creepy-crawlies, play in a man-made spider web, and see the inside of a beehive. There is even a bug petting corner, an Arachnid Alley, and a termite mound. Discovery: This is the place to buy those hard-to-find spicy Cajun mealworms or candied insect lollipops. (8046 Frankford Avenue 19136. 1(215) 338-3000)
How about a mint? Franklin Mint, the world's largest private mint is along U.S. Route 1. It's the place that provides high quality collectibles and personal luxury products. So naturally the museum displays their catalog items. From the Star Trek transporter room to the mood-lit display hall of fake Faberge Eggs it's all visually tempting. Items on display include porcelain dolls, precision die-cast model motor vehicles, collector plates, historic weapon replicas and the list goes on. This is the place to find the ultimate versions of the world's most popular games and they take credit cards. (U.S Route 1 Franklin Center, 19091. 1(610) 459 6168 or www.franklinmint.com)
Walk among the flowers. The 110-acre Scott Arboretum on the campus of Swarthmore College is the location of more than 3,000 different kind of plants displayed in elegant landscaped setting. Significant plant collections include: flowering cherries, corylopsis, crabapples, lilacs, magnolias, native azaleas, ornamental grasses, tree peonies, viburnums, and wisteria. The trees within the arboretum are quite old, including one Bender Oak that pre-dates Swarthmore itself, and an avenue of white swamp oaks planted in 1881. (Swarthmore College Rt. 1 South to Rt. 320 South 500 College Avenue Swarthmore, 19081. 1(610) 328 8025 or www.sccs.swarthmore.edu/users/99/maya/scott.html)
Howe did he do it? Brandywine Battlefield Park Visitors Center provides visitors with the lay of the land and details of the historic battle and its relation to the Philadelphia Campaign of 1777. The encounter between General Howe and General Washington was dramatic. Changing exhibits cover a variety of topics pertaining to the American Revolution. Washington's Headquarters, the farmhouse of Benjamin Ring, a Quaker farmer and miller is located west of the battlefield. Visitors may tour the reconstructed site. The headquarters of the patriot Marquis de LaFayette, also open for tours, remains much as it appeared in 1777. (The battlefield is on Route 1 in Chadds Ford, PA 19317. 1(610) 459-3342 or www.ushistory.org/brandywine/about.htm)
Eccentric or quirky? There may not be a category for the Christian Sanderson Museum, a personal collection of unusual stuff. Imagine eight rooms filled with things of absolutely no significance. Things like a piece of the bomber that crashed into the Empire State Building, dyed Easter eggs from 1886, melted ice from the South Pole, a penny run over by the Lincoln funeral train, and sand from the digging of the Panama Canal. Open only on weekends, the museum is worth a browse because of its American originality. (Chadds Ford, 19317. Rt. 1 South to Concordville. Rt. 322/Rt. 1 West to Rt. 1 South.1 (610) 388 6545)
Just ask Wyeth? With a 19th-century gristmill as a backdrop, the Brandywine River Museum showcases a remarkable collection of works by three generations of Wyeths as well as in impressive collection of American illustration, still life and landscape painting. Tours of the N.C. Wyeth House and Studio are available. The Museum changes its exhibitions frequently. This is American Illustration at its best. Discovery: This is also the location of the Brandywine Conservancy's Wildflower and Native Plant Gardens dedicated to the preservation, protection and sharing of uniquely American artistic, natural and historical resources from the region. (U.S. Route 1, Chadds Ford. 19317. 1 (610) 388-2700 or www.brandywinemuseum.org)
11,001 different plants! The former home of Pierre S. du Pont, Longwood Gardens is one of the world's grand garden showcases. Comprised of more than 1,050 outdoor acres and 20 indoor gardens, flowers beds and spectacular fountains, it is a visual treat for the senses. More than 400 performing arts events, including concerts and plays, are presented each year. The annual Festival of Fountains is a spectacular summer-long extravaganza with ongoing performances among more than 1,700 fountains. (U.S. Route 1, Kennett Square, 19348-0501. 1(610) 388 1000, 1-800-737 5500 (recording) or www.longwoodgardens.org)
FYI: Kennett Square and the surrounding area is called the "Mushroom Capital of the World". It's the place where designer mushrooms are grown. Think portabello, shitake, maitake, enoke and crimini. Local stores offer things like Wild Willy's Mushroom Madness gourmet spread, Moonshine mushroom powder, mushroom chowder and mushrooms au jus. Get the idea?
The U.S. Route 1 crosses the historic Mason-Dixon Line and weaves through Maryland heading to Baltimore.
---
© 2004 Travel Communications, Inc.
Content syndication services provided by TheFamilyTravelFiles.com