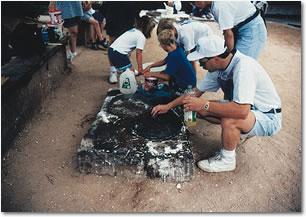 One of the world's largest concentrations of dinosaur tracks is the star attraction at Dinosaur State Park in Rocky Hill, near Hartford in central Connecticut.
Nearly 2,000 dinosaur tracks are perfectly preserved in sandstone. Roughly 200 million years old, the tracks were uncovered in 1966 by a bulldozer during excavation work.
To protect the rare find from the ravages of weather, officials carefully mapped the location of each track, buried them 1,500 feet for preservation and built a protective dome to cover the rest. Seeing the actual tracks is awe-inspiring; even if you're not into dinosaurs, they're definitely worth going out of your way to see.
The park also features a unique side attraction-visitors can make a cast of a dinosaur track to take home (available on certain days, at certain times). You must bring the following items: 1/4 cup of cooking oil, a 5-gallon plastic bucket, 10 pounds of plaster of Paris and paper towels and cloth rags. It's great fun for children and adults alike.
Dinosaur State Park (400 West St.) is located 1 mile east of Exit 23 on I-91, a few miles south of Hartford. The park is handicapped accessible. For more information, visit www.dinosaurstatepark.org.