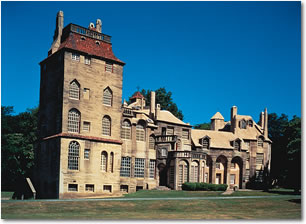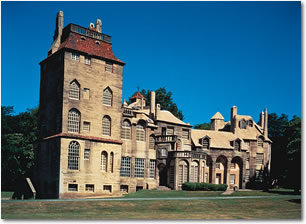 Photo courtesy of Barry Halkin Fonthill Museum
An old adage says a man's home is his castle. That certainly was true for ceramic-tile magnate Henry Mercer, who built not one, but three incredible concrete castles in the early 1900s in Doylestown, Pennsylvania.
All three buildings-Fonthill Museum, Mercer Museum and the Moravian Pottery and Tile Works-are listed on the National Register of Historic Places. Standing along what locals call the "Mercer Mile," they preserve the legacy of this larger-than-life Renaissance man and collector extraordinaire.
Fonthill Castle (shown here), as Mercer's home was once known, will leave you awestruck. You literally won't know where to look first. Completed in 1912, the 44-room mansion features 10 bathrooms, 18 fireplaces and dozens of narrow winding stairwells.
You'll see beautiful tiles throughout the castle. Some were made at Mercer's Moravian Pottery and Tile Works; others he collected during his extensive worldwide travels.
Mercer's second castle was the tile works factory, just a short walk away. On self-guided tours, you'll see craftsmen fashioning Mercer's original line of tiles, employing the same techniques used nearly 100 years ago. It's fascinating to watch them at work!
The third castle is the towering Mercer Museum, which Mercer built to house his mammoth collection of artifacts. Fascinated with pre-mechanized America, Mercer collected tools and implements that told the story of human progress. It's a mind-boggling array of more than 25,000 items, ranging from clock-making tools to a 2,000-year-old whale-oil lamp.
You can easily spend a day browsing through these three unique castles that capture the essence of a unique and extraordinary man. You won't see anything else quite like them anywhere!
Fast Facts
Doylestown is in southeast Pennsylvania at the junction of State Highway 202 and 611, about 30 miles north of downtown Philadelphia.
The Fonthill Museum (East Court St.) is open year-round. Guided tours are available; reservations are suggested.
The Mercer Museum (84 S. Pine St.) is open year-round. It's wheelchair accessible.
The Moravian Pottery and Tile Works Museum (130 Swamp Rd.) is open daily except on selected holidays. The building is wheelchair accessible.