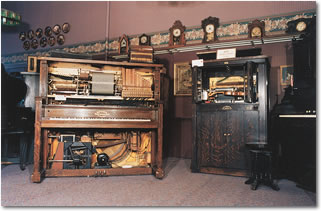 Do you remember the sweet sounds of Grandma's nickelodeon, or her 19th-century music box? How about the brightly painted organs that made the rounds at county fairs and amusement parks?
The DeBence Antique Music World Museum in Franklin, a town in northwestern Pennsylvania, has them all-and more. Its collection of more than 100 working musical machines has been called one of the best in the United States.
From small cylindrical music boxes to enormous outdoor carousels, all the pieces are in beautiful condition-and they all work. The machines date from the 1850s to the 1940s.
There are nickelodeons in gleaming cabinets with stained-glass inlays, ornately carved parlor organs, the enormous (and loud) Wurlitzer Military Band Organ, calliopes and phonographs. The Berry-Wood A.O.W. Orchestrion here is the only one still in existence.
Dairy farmers Jake and Elizabeth DeBence started this collection more than 50 years ago. After Mr. DeBence's death, community volunteers raised funds to buy the collection and keep it in the community.
The museum is located in an old dime store in Franklin's historic downtown. It also houses the DeBences' music-related antiques and Tiffany-style lamps. Vendors sell antiques, collectibles and gifts on the lower level.
The DeBence Museum provides a link to the past that we can see, touch and hear. These machines truly are musical marvels.
Fast Facts
Franklin is at the junction of U.S. Highways 62 and 322 and State Highway 8, about 16 miles north of I-80 via Highway 8 (Exit 29) in northwestern Pennsylvania.
The DeBence Antique Music World Museum is located at 1261 Liberty Street. For more information, visit www.debencemusicworld.com.
Interested in camping nearby? Check out KOA campgrounds in Pennsylvania.