This coastal Maine retreat is a great place to relax.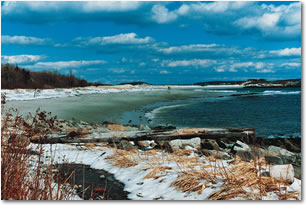 Long Island is one of 14 year-round communities off the coast of Maine. Whether you visit during the summer or the off-season, this is a great place to get away from it all.
You can only get here by ferry from Portland, and the hour-long trip through Casco Bay will take you through some of the country's most scenic waters. You'll get a glimpse of turn-of-the-century cottages and lighthouses, along with fishing and lobster boats plying their trade.
This working-class island is relatively unknown to tourists. But there's plenty to do and see.
One of the island's best-kept secrets is its beaches. South Beach State Park offers sparkling white sand and blue-green waters-you'd almost think you're in the Caribbean! And Fowler's Beach has rocks to climb and offers a distant view of Portland. Both are a beachcomber's paradise, with abundant sea glass and seashells.
Biking is another popular activity; rentals are available. There are no hills, the main roads are well paved and the views are terrific. Folks here are friendly and courteous, so don't be surprised if they wave as you pedal by.
If you aren't up for a bike ride, take a tour of the island in Chub Doughty's blue bus. Chub is a Long Island native, and you'll love listening to his Maine accent as he tells you about the island.
There are several gift shops on the island. When you get hungry, there's Maria's Pizza and Clark's Store, which sells groceries and ice cream cones.
After you visit and enjoy the slow, relaxing pace, you'll see why folks rave about Long Island!
Fast Facts
Portland is along U.S. Highway 1 in southern coastal Maine. Casco Bay Lines runs a ferry between Portland and Long Island year-round. For schedules and fares, visit Casco Bay Lines online at www.cascobaylines.com.
To learn more about Long Island, call the Town Hall at 1-207/766-5820.
Interested in camping nearby? Check out KOA campgrounds in Maine.