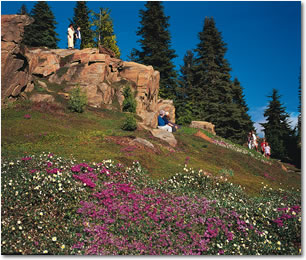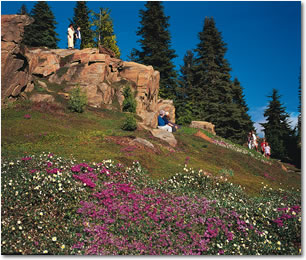 Breathtaking Ohme Gardens is a little-known natural treasure nestled on a mountainside north of Wenatchee, Washington.
Herman and Ruth Ohme created this amazing 9-acre alpine oasis through 60 years of backbreaking labor. It all began in 1929, when the couple married and purchased 40 acres of land that consisted mostly of sagebrush, rock and grass.
The Ohmes were particularly taken by a rocky point offering an incomparable view of the Wenatchee Valley, the Columbia River and the Cascade Range.
Since they couldn't afford to build a home right away, the Ohmes decided to make their barren property as beautiful and inspiring as the views it commanded. As time permitted, they planted tree seedlings and other plants.
To hydrate the plants, the Ohmes made thousands of trips up the mountainside, transporting truckloads of 5-gallon milk jugs filled with water. They also moved many truckloads of rock and flagstone, which they used to create winding pathways as well as benches and tables. They also built rustic shelters and added pools and lawns.
The gardens opened to the public in 1939 after the Ohmes were persuaded; the park-like setting was too lovely to remain private. As you stroll along the pathways of native stone, you won't believe how natural it all seems.
One area, the Alpine Meadow, is appropriately named. Its natural grasses, green alpine trees and deep purple ajuga and bright pink phlox blooms created a tranquil patchwork quilt of color. It's sights like this that'll have you planning your next visit before you even leave!
Fast Facts
Wenatchee is at the junction of U.S. Highways 2 and 97 in central Washington.
Ohme Gardens is just north of the city, near the intersection of Highway 2 and Alternative U.S. Highway 97.
For more information, consult Ohme Gardens online at www.ohmegardens.com.
More to See… Leavenworth is a small Bavarian-themed burg about 25 miles northwest of Wenatchee via Highway 2. To learn more, refer to Leavenworth online at www.leavenworth.org.
Interested in camping nearby? Check out KOA campgrounds in Washington.