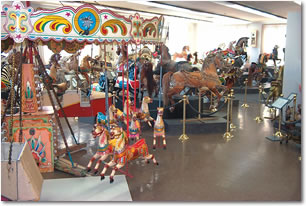 Anyone who loves carousels will definitely want to give the International Museum of Carousel Art in Hood River, Oregon, a whirl.
For carousel lovers, this attraction is the crown jewel of merry-go-round memorabilia. It houses the world's largest collection of carousel art, which includes 132 animal carvings and an antique steam engine. There's also a restored 1917 Wurlitzer 153 band organ-that's the device that plays the distinctive carousel music so dear to everyone's heart.
Since 1981, the museum's dedicated staff has restored carousels that are now operating around the country. The profits from running these beauties fund about two additional restorations a year.
The hand carved animals here are fascinating. When you visit a carousel, you only observe the handiwork of one carver-say, the noted Charles Looff. But at the museum, you can see the artistry of many master carvers at one time.
The nostalgic feeling here is overwhelming. Sometimes people actually cry when they hear that old band organ strike up a tune. It's a magical sound for so many people.
So if you're ever in northwest Oregon, give the carousel museum a spin. It'll make you feel like a kid again.
Fast Facts
Hood River is about 70 miles east of Portland along I-84. The museum is located at 304 Oak St. and is wheelchair accessible. For details, visit www.carouselmuseum.com.
Interested in camping nearby? Check out KOA campgrounds in Oregon.