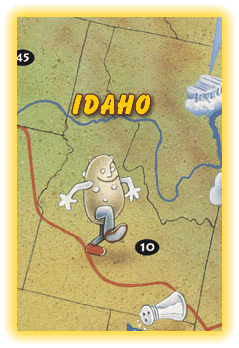 Places time forgot. Meriwether Lewis' August 12, 1805 campsite, in Lemhi Pass is believed to be the first Lewis & Clark campsite west of the Continental Divide. Through the Bureau of Land Management visitors are provided enhanced access to several portions of the Lewis and Clark National Historic Trail. This is an area that has changed little in the last 200 years. Wilderness still today, this is the point from which Lewis or Clark probably said I'm not believin' this! With no short portage in sight they had to go to plan two. The Flag Unfurling site is where Lewis met Sacajawea's brother Cameahwait. Lucky for the Corps, he was also the Chief of the Shoshoni…everyone knows how the deal went down. (Salmon, Lemhi County. www.nps.gov).
Home on the (Agai Dika) Range. The Sacagawea Interpretive Cultural and Education Center is dedicated to Sacagawea and her integral part in the journey of Lewis and Clark. Located in her ancestral home the Center provides visitors with a unique perspective on the Agai Dika culture as well as the challenges faced by the Corps members on their journey. Situated on 71 pastoral acres the Center contains interactive displays, cultural exhibits that relate to the Corps of Discovery as well as the surrounding area. On the complex grounds there are pathways for visitors to enjoy. A festival is held each August in Salmon to pay tribute to Sacajawea and The Corps of Discovery. (One mile east on Hwy. 28, Salmon. 1(208) 756-1188 or www.sacajaweahome.com)
This information has been supplied to KOA.com by Amanda Nelson-Duac of the familytravelfiles.com Travel Communications, Inc.
Online Travel Magazine, Marketing and Content Services
Main Office:
16913 Rolling Rock Dr.
Tampa, FL 33618
(813) 968-4799