By Bob and Sally W., Field Editors, Issaquah, Washington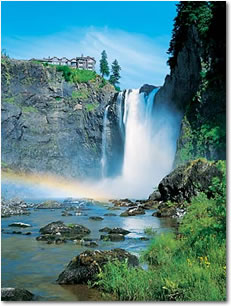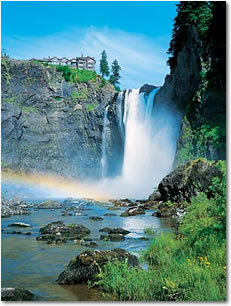 EVERY TIME we see Snoqualmie Falls, we're amazed by its beauty and power. The waters plunge dramatically from a height of 268 feet, almost 100 feet taller than Niagara Falls, and the mist from the gorge below often rises all the way to the nearby observation platform.
Set in the foothills of Washington's Cascade Mountains, this breathtaking natural wonder attracts admirers from all over the world. But the falls have more to offer than just beauty.
The powerful Snoqualmie River and roaring falls are surrounded by myths and legends and remain an integral part of Native American life. The falls were the first Native American "spiritual site" to be listed on the state's Register of Historic Places.
The falls have also been producing electricity for more than 100 years. The Northwest's first major hydroelectric plant was built atop the cataract in 1898. Another plant was added in 1910 and was expanded in 1957.
We love the view from the observation deck. And if you're up to a steep hike, we recommend following a trail to the base of the falls for another dazzling view.
You'll find the elegant and luxurious Salish Lodge and Spa adjacent to the observation deck, almost atop the falls. Built around the original 1916 Snoqualmie Falls Lodge, it's known for its posh accommodations and gourmet meals. It's hard to imagine rooms with a better view!
Before You Visit…Snoqualmie Falls is about 30 miles east of Seattle on State Highway 202, just north of I-90. Follow the signs through the town of Snoqualmie to the falls. For details, call the Upper Snoqualmie Valley Chamber of Commerce at 1-425/888-4440 or log on to www.snovalley.org.
More to See…The Northwest Railway Museum in Snoqualmie is housed in the fully restored 1890 Snoqualmie Depot, listed on the National Register of Historic Places.
The Snoqualmie Valley Railroad offers scenic weekend train rides between Snoqualmie and North Bend from April through October. The railroad also runs special seasonal excursions like the popular Santa Train.
For details, call the museum at 1-425/ 888-3030 or log on to www.trainmuseum.org.
This KOA Travel Information is Sponsored by:
Reiman Publications