Tiny Tybee Island combines beauty and history on the Georgia coast.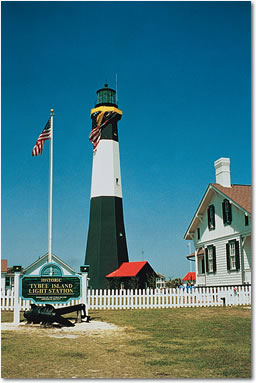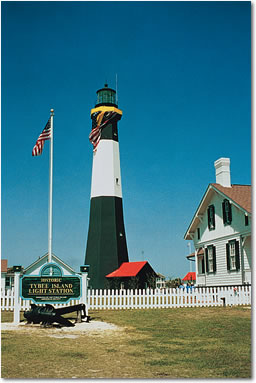 Tybee Island on Georgia's northern coastline is a perfect place to swim, sunbathe and relax.
Beyond the 3-mile-long beach and charming, low-key shopping areas, the island is also a marvelous place for history buffs. Fort Pulaski, built just west of the island to protect Savannah, boasts a drawbridge and moats engineered by a young Robert E. Lee.
There's also Fort Screven, on the north end of the island. From the Spanish-American War through World War II, troops stood guard here. An original battery houses the Tybee Museum; the admission price includes a tour of the nearby Tybee Island Lighthouse, a local landmark.
From the lighthouse, you can easily bike or walk the 2-1/2 miles to the island's south end, where the excellent Marine Science Center helps you understand coastal Georgia's rich variety of plant and animal life. Try the touch tank for a real hands-on experience!
For breakfast, enjoy a spectacular sunrise with a meal at The Breakfast Club, located at 1500 Butler Avenue. Don't be deceived by its plain appearance; the spinach omelet with artichoke hearts, served with fresh-caught grouper in Alfredo sauce, is nothing short of excellent.
For more great meals, visit the North Beach Grill, (41A Meddin Dr.) featuring Southern- and Caribbean-style dishes, and the Crab Shack, (40 Estill Hammock Rd.) which is noted for great seafood.
Fast Facts
Tybee Island is on U.S. Highway 80, about 15 miles east of downtown Savannah. For general information, visit Tybee Island online at https://visittybee.com/.
Fort Pulaski National Monument is on Highway 80. Only the lower level is wheelchair-accessible. To learn more, visit Fort Pulaski online at www.nps.gov/fopu/index.htm.
The Tybee Lighthouse and Museum is located at 30 Medding Drive. For details, consult Tybee Lighthouse and Museum online at www.tybeelighthouse.org.
The Tybee Island Marine Science Center is located at 1510 Strand and is wheelchair accessible. For more information, visit The Tybee Island Marine Science Center online at http://tybeemarinescience.org.
Interested in camping nearby? Check out KOA campgrounds in Georgia.