When the dust clears at the PurpleHull Pea Festival, a new world-champion tiller will be crowned.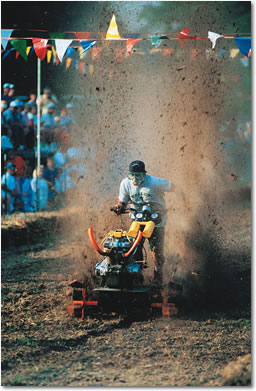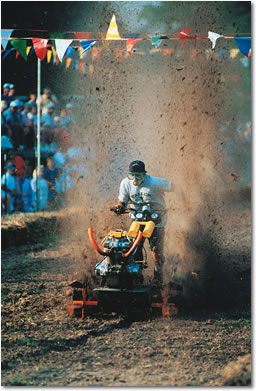 If you can describe a festival by using the words "thriller" and "tiller" in the same sentence, it's bound to be pretty wacky-and the annual PurpleHull Pea Festival in Emerson, Arkansas is no exception. This unusual, but fun festival is held on the last Friday and Saturday in June.
The highlight of this event in southwestern Arkansas is the World Championship Rotary Tiller Race, in which the world's fastest garden tillers gather to vie for bragging rights.
Contestants can compete in different categories, including a stock division for "garden-ready" tillers and a modified division for souped-up tillers (engines can't exceed 100 horsepower). It's definitely the highlight of the area's tiller-racing season.
"Driver" Shane Waller set a world record in the modified division in 2004, tilling the 200-foot-long race strip in an amazing 5.72 seconds. That's an average speed of nearly 24 miles per hour!
All contestants abide by rules developed by the World Tiller Racing Federation after a controversial race in 1993.
The first pea festival was held in 1990 after resident Glen Eades felt this community of 359 folks needed something to liven things up.
"We were so boring we didn't even have a cop," Glen quips about the community, named after Reuben Emerson, a local state legislator who founded the city in the early 1900s.
So Glen and other Emersonites decided to pay homage to the lowly purple hull pea, a delicacy grown in virtually everyone's backyard garden around here. This legume is a close cousin to the black-eyed pea, which is more familiar to most people but not nearly as tasty, locals say.
Purple hull peas are considered a culinary delight in the South, where they're cooked with a slice of side meat, then piled on a hunk of cornbread. It's delicious!
During the 1-day festival, you'll also enjoy a pea-shelling contest, fireworks, the PurpleHull Pageant and the Million Tiller Parade. You'll also want to taste unique confections like purple hull pea jelly-if you like it, the vendors will even give you a free recipe! The day's events and festivities end with a country-style street dance.
You won't see anything else quite like this unusual, fun-filled event. Better yet, all the festival's proceeds help bring the townsfolk closer to their goal of building a park. So just bring along your appetite-and get ready for a real thriller of a tiller race!
Fast Facts
Emerson is at the intersection of U.S. Highway 79 and State Highway 98, between Magnolia and the Louisiana state line. For more information about the festival, consult the Purplehull Pea Festival online at www.purplehull.com.
More to See… The Arkansas Museum of Natural Resources is about 34 miles east of Magnolia, near Smackover and just west of State Highway 7. It's devoted to the Arkansas oil boom of the 1920s and the growth of the bromine industry that followed.
Interested in camping nearby? Check out KOA campgrounds in Arkansas.