This eye-popping Oklahoma museum exhibits all things American.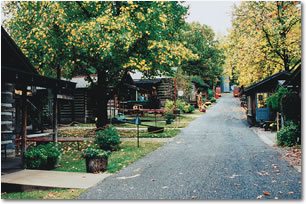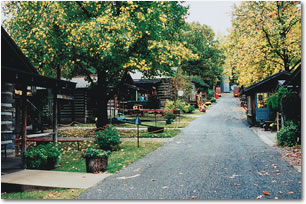 Har-Ber Village has to be one of the best-kept secrets in Oklahoma.
Har-Ber Village has been called a "love-America theme park," and the description fits. This amazing collection of American artifacts fills more than 100 buildings.
Located in northeast Oklahoma near Grove, Har-Ber is named for its founders, Harvey and Bernice Jones, who originally bought the site on Grand Lake O' the Cherokees for a summer home. In 1968, Mr. Jones used handmade bricks that predated the Civil War to build a chapel overlooking the lake.
Boaters started coming ashore to visit the chapel, and the Joneses added an 1840s cabin. An old schoolhouse followed…and then another building…and another. As the couple added buildings, they filled them with antiques acquired from all over the Midwest.
A plaque on the bell tower explains their mission: "A sincere effort to preserve for future generations the way of life as experienced by our forefathers, who carved out of wilderness this wonderful country we know and enjoy today."
This museum contains everything-dishes, furniture, musical instruments, glassware, military items, dolls, toys, tools, pottery, Civil War and Indian artifacts…even a collection of barbed wire!
Most of the buildings are representative of Oklahoma's early days. The dentist's and doctor's offices, bank, post office, mercantile, school, jail, printing shop, drugstore, stagecoach inn, dress shop and pioneer home look just as they did years ago.
This attraction is a great tribute to America, and the exhibits are among the most extensive you'll find anywhere. Plan to spend an entire day here if you want to see it all.
Fast Facts
Har-Ber Village is 2 miles west of Grove, which is about 90 miles northeast of Tulsa at the junction of U.S. Highway 69 and State Highway 25. The attraction is wheelchair accessible. For details, visit Har-ber Village online at www.har-bervillage.com.
Interested in camping nearby? Check out KOA campgrounds in Oklahoma.