Terri Z., Field Editor, Paulina, Louisiana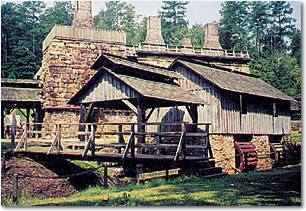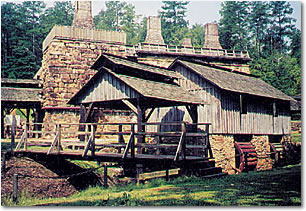 WHEN my husband, Rusty, and I visited Tannehill Ironworks Historical State Park, we knew we'd discovered something special.
We are history buffs, so we loved the more than 45 historic buildings scattered throughout the 1,500-acre park, including a pioneer farm with live animals, a gristmill and a cotton gin.
Our favorite, though, was the old Tannehill Furnaces, one of the best-preserved Civil War-era ironworks in the United States. We also enjoyed browsing through the Alabama Iron and Steel Museum, which traces the ironwork's history.
On weekends from March through November, old-time craftsmen gather to demonstrate their skills. And on the third weekend of every month during the same time frame, the park sponsors Tannehill Trade Days, a giant flea market where as many as 500 vendors peddle everything from handmade rocking chairs to recreational vehicles. The park also has beautiful campgrounds, 195 improved sites as well as five rental cabins. And for $2, you can tour the park on its miniature railway!
To top it all off, the park is on the south end of the Appalachian Trail, and it's designated as a nature preserve. It's not unusual to see deer as you walk along the hiking trails.
Tannehill is about 35 miles southwest of Birmingham and a couple miles south of I-59; take Exit 100 and follow the signs. Admission is $2 for adults and $1 for children ages 6-11.
For details and camping reservations, visit www.tannehill.org or call 1-205/477-5711.
Interested in camping nearby? Check out KOA campground locations in Alabama.
This KOA Travel Information is Sponsored by:
Reiman Publications