Oua-oua-rons make Rayne, Louisiana a "ribbeting" getaway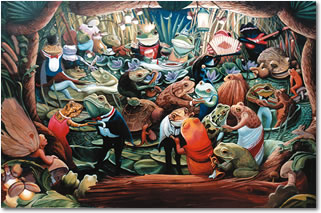 A smiling bullfrog on a sign along I-10 in south-central Louisiana leads you to Rayne, a hospitable small town known as the "Frog Capital of the World."
During Rayne's early days, the surrounding wetlands were hopping with frogs-or oua-oua-rons (pronounced "wah-wah-raws"), as the Cajun townsfolk here call them. Quick-handed entrepreneurs built a thriving business selling frogs to restaurants and biological supply houses.
Several years ago, Rayne residents adopted the oua-oua-ron as their mascot and started painting the town green-literally. Almost 3 dozen frog-themed murals decorate buildings all over Rayne.
You'll have a lot of fun finding the whimsical murals, painted by artist Robert Dafford (a guide pamphlet is available at the town's Visitor Center at 107 Oak St.). Along the mural trail, you'll pass several shops that sell frog souvenirs. And don't miss amazing Worthmore's 5, 10 & 25 Cent Store (100 W. Louisiana Ave.), a 70-year-old old-fashioned emporium whose motto is "If you can't find it here, forget it."
If you want to experience a bit of Cajun joie de vivre ("love of life"), the folks at the Visitor Center will happily point you toward local restaurants and traditional Acadian dance halls. If you visit in summer, plan to attend the annual Frog Festival, held on or around Labor Day weekend.
No doubt about it-for a small town, Rayne sure is hopping!
Fast Facts
Rayne is at the junction of State Highway 35 and U.S. Highway 90, just south of I-10 (Exit 87) and about 15 miles west of Lafayette. To learn more, visit https://www.rayne.org/.
More to See… Avery Island, about 45 miles southeast of Rayne, is home to the McIlhenny Company, makers of Tabasco hot sauce. Factory tours are available. To learn more, refer to https://www.tabasco.com/.
Interested in camping nearby? Check out KOA campgrounds in Louisiana.