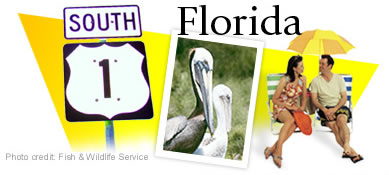 From ghost walks along cobblestone streets in St. Augustine to sunset ceremonies in Key West, U.S. Route 1 in Florida is eclectic and enchanting. The route weaves down the coast shadowed by the faster, less interesting I-95. Route 1 connects communities rich in history and waysides endowed with natural beauty. The obvious advantage, the chance to slow down and experience a sense of place. Drink fresh-squeezed orange juice and sample alligator jerky. Try a grouper sandwich partnered with key lime pie. Vacation bliss, and the list goes on.
Take a walking safari. Northeast Florida abounds with natural beauty and nowhere is it more obvious than at Jacksonville Zoological Gardens where the wonders of Africa and the world are showcased. The 73-acre zoo and botanical gardens provides habitat for rhinoceros, Cape buffalo, leopards, elephants, giraffe and zebra. In addition to a train within the park and gardens, they also have boat excursions along the adjacent waterways. From the baby animal nursery to the programs featuring up-close and hands-on encounters, it is an enchanting place for a day adventure. (8605 Zoo Parkway, Jacksonville, 32218 1(904) 757-4463 or www.jacksonvillezoo.org)
Treat your sweet tooth. Who can resist visiting a chocolate factory? For almost four decades the Whetstone family has been making scrumptious chocolates in St Augustine. They specialize in the delicious, beautiful, yet melt-in-your-mouth kind. The behind the scenes Whetstone Chocolates Factory Tour is free, self-guided and there is a free chocolate sample at the conclusion. Vacation bonus: The factory is five minutes from the KOA. (2 Coke Road, State Road 312 just east of U.S. Route 1 South. 1(904) 825-1700 or www.whetstonechocolates.com)
Look for alligators with the birds. The lush tropical grounds make an ideal habitat for not only a variety of alligators but hundreds of other wild residents as well. Within the Alligator Farm & Zoological Park complex monkeys, birds, crocodiles, turtles and snakes also thrive. In addition to daily wildlife presentations it is possible to meander along a raised boardwalk well above, but in plan view, of more than 50 alligators and reptiles. The wooded walkway makes it easy to observe nesting birds without being intrusive. (Alligator Farm & Zoological Park 999 Anastasia Blvd. St. Augustine. 1-800-966-7275, 1(904) 824-3337 or www.alligatorfarm.com)
Catch a moonrise if you're lucky. There is something intriguing about being able to stay after closing and for a few lucky folks every month on the-full-of-the-moon that is possible at the Augustine Lighthouse and Museum. Completely automated, the lighthouse remains an active aid to navigation. Most days visitors explore the grounds, historic keepers' house and climb the 219 steps to the top for an exquisite view of the area. Docents and staff historians provide information about the lives of the keepers and their families. (81 Lighthouse Avenue 1(904) 829-0745 or www.staugustinelighthouse.com)
Drink the water. Ponce de Leon landed in St. Augustine in 1513 searching for miracle water known in legends as the Fountain of Youth. Drinking the water is only one of the activities available within the grounds of the Fountain of Youth National Archaeological Park. Today visitors may walk among the gardens, view the excavations, and see the life-sized exhibits that depict life five centuries ago when the site was a Timuncuan Village. It is even possible to have a drink of water. Though not exactly a taste treat, its reputation is ageless and said to be from the pre-historic Indian spring. (11 Magnolia Avenue. 1-800-356-82222 or www.fountainofyouthflorida.com)
Time travel with an accent. The Colonial Spanish Quarter at the heart of Old Town provides a living history window for visitors. Within minutes of entering the grounds the sights, sounds and smells of another era become all encompassing. Costumed interpreters recreate 1740; a time when St. Augustine was a remote outpost of the Spanish Empire. Tradesmen go about their occupations in blacksmithing, carpentry, leatherworking, and candle-making. Meals are prepared and livestock tended as if it was still the 18th century. (53 St. George Street 1(904) 825-6830 or http://www.colonialquarter.com/)
Route 1 south of St. Augustine offers a pleasant low traffic way to enjoy the natural beauty of Florida. As with sections in northern states it continues to compete with I-95. What it sometimes gives up in speed it more than makes up for in ease of travel and natural beauty.
Kayak with rhinos. Out-of-the-ordinary and loads of fun, visitors to the Brevard Zoo have the chance to kayak within the Zoo's Expedition Africa exhibit. Not a simulation, the route provides kayakers with visual access to more than 60 animals, including giraffes and white rhinos. There are a variety of activity options for all ages. Ride the Cape-to-Cairo zoo train, feed the giraffes or watch the monkeys watching the people watching the monkeys. (8225 N. Wickham Road Melbourne. 1(321) 254-9453, Automated General Information Line 1(321) 254-9453 or www.brevardzoo.org)
Watch a rookery. North of Vero Beach there is a tiny five-acre island in the middle of Indian River Lagoon. Its feathered residents carry on a 24-hour natural drama oblivious to onlookers. Pelican Island National Wildlife Refuge supports hundreds of species of birds, plants and mammals, while providing a wilderness window for visitors. On the land portion of the refuge, a boardwalk with observation tower allows visitors a location to view the island with two wood stork rookeries and more than a dozen species of nesting birds. Two salt marsh impoundment trails provide recreational opportunities that include hiking, wildlife observation, and fishing. (Sebastian. 1(772) 562-3909 x258 or www.fws.gov/pelicanisland)
Experience Roji-en at moonrise or sunrise. Stroll through the Japanese gardens and enjoy the exquisite tranquility provided at the exchanging point of day and night. The Morikami Museum and Japanese Gardens features ever-changing gallery exhibits and marvelous seasonal gardens in addition to cultural celebrations and festivals, and family-fun days. They are recognized for their unique educational programming. During a visit guests may try to master Sado, the way of tea or try their skills at creating origami. It is a beautiful place to enjoy quiet time or have an inspiring cultural adventure. (4000 Morikami Park Road, Delray Beach 33446. 1(561) 495-0233 or www.morikami.org)
Hear lions roar. Lion Country Safari's in rural Western Palm Beach County is recognized as the first cageless zoo in the country. The safari encompasses four miles of drive-through preserve. It opened in the summer of 1967 introducing a new concept in zoology and establishing Lion Country Safari as a leader in the conservation community. New to the complex is a Safari World walk-through entertainment complex. Vacation Bonus: Lion Country Safari is next door to a KOA where guests may hear the sounds of the Serengeti but relax knowing they are safe with KOA. (2003 Lion Country Safari Road Loxahatchee, 33470. 1(561) 793-1084 or www.lioncountrysafari.com)
---
© 2004 Travel Communications, Inc.
Content syndication services provided by TheFamilyTravelFiles.com