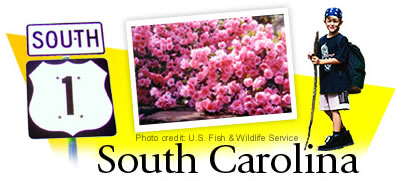 South Carolina welcomes U.S. Route 1 shortly after Rockingham. The way is rural with deep sandy ridges, pines and oaks. The state is known for traditional Southern friendliness that is enhanced by local cuisine. Expect to find grits and country fresh ham; look for Frogmore Stew and Pee Dee Chicken Bog; sample fresh watermelon from a roadside stand and take fresh peaches home. Food is a big part of Southern hospitality.
Ride in the wilderness. The 45,000-acre Carolina Sandhills National Widlife Refuge, a secret Southern beauty, marks the way to Columbia. Vacation options span the gamut from sports to space. Some of the best places are listed below just waiting to be enjoyed. A nine-mile long trail provides a general view of the refuge. For wildlife viewing there are marked trails, observation towers, and viewing platforms located throughout the Refuge. Wildlife viewing is also possible from fishing platforms on nearly all of the twenty ponds and lakes on the Refuge. Additionally, more than 100 miles of dirt and graveled roads are open to bicyclists looking for riding in areas that are seldom visited by the general public. Discovery: The Refuge also maintains a photographers blind, also at Martins Lake. (3734 U.S. Route 1 McBee, 1(843) 35-8401 or www.fws.gov/carolinasandhills)
A track too tough to tame. Famous for it's unique egg-shaped oval, the Darlington Raceway, NASCAR's original super speedway, provides NASCAR fans and history buffs a one-of-a-kind experience. The track that's "Too Tough to Tame" was built in the fall of 1949 by Harold Brasington, a local business man who thought that Bill France (the founder of NASCAR) had an idea that might just catch on. Brasington's intuition for public interest turned small Darlington, South Carolina into a mecca of NASCAR racing; and the "feisty" Darlington Raceway remains a favorite of drivers (and fans) old and new. (1301 Harry Byrd Hwy, 29532. 1 (843) 395-8499 or www.darlingtonraceway.com)
See the Clown Prince. Known for his "no-holds-barred" driving style and endless creativity in the field of practical jokes, Joe Weatherly, the "the Clown Prince of Stock-Car Racing", was a serious competitor on the track. The NMPA Stock Car Hall of Fame/Joe Weatherly Museum is a showcase of racecar history both at Darlington Raceway and in the world of racing. It features many old and classic racecars, photos, racing memorabilia, and interactive exhibits focusing on the sport of NASCAR and the personalities who have reveled in it. (1301 Harry Byrd Hwy, 29532. 1 (843) 395-8499 or www.darlingtonraceway.com)
Go to the "Flo". Located in a beautiful 1930s Art Deco building, the Florence Museum of Art, Science and History is dedicated to collecting, preserving and exhibiting objects of scientific, artistic and historic interest. Artwork on display features a diverse selection ranging from Chinese and African art to a collection of Southwestern American Indian pottery. (558 Spruce Street, 29505 1 (843) 662-3361 or www.florenceweb.com/museum.htm)
I don't wanna grow up. The biggest children's museum in the South, the EdVenture Children's museum encompasses 74,000 square feet of hands-on learning and fun. There are eight galleries, two resource centers. The centerpiece at EdVenture is Eddie, the world's largest child. Eddie weighs in at 17.5 tons and is 40 feet tall. Visitors are invited to climb Eddie's vertebrae for a look at his brain; then can crawl around his heart; bounce through his stomach and slide out of his intestines. This decidedly unique children's museum is not to be missed. (211 Gervais Street, Columbia, 29201. 1 (803) 779-3100, www.edventure.org)
Blast off! One of forty-two such centers across the nation established to commemorate the Challenger Space Shuttle. The Challenger Learning Center in Alexandria offers children a look at outer space and the skills required working in the air-space industry. Visitors tour the space station, visit the planetarium, and watch a 16-minute film on space. For those with children eight years of age or older there is a simulated space station mission involving real-life mission problems. Participants try their luck at demonstrating the scientific, mathematical and technological skills needed for a successful space mission. (1250 North Pitt Street, 22314. 1 (803) 929-3951 or www.challenger.org)
Where is the hellhole of succession? General Judson Kilpatrick, Sherman's cavalry commander, called South Carolina the "hellhole of secession" and he vowed to wreak havoc. Today, the South Carolina's Confederate Relic Room and Museum commemorates and preserves the military history of South Carolina with a special emphasis on the era of the Confederation that Kilpatrick once vowed to destroy. Portrayed through exhibitions of art, artifacts and memorabilia, the history of the Confederacy comes alive inside the walls of the museum, which also houses a nationally known Civil War flag collection. (920 Sumter Street, Columbia, 29201. 1 (803) 737-8095 or http://crr.sc.gov)
"Housed" in history. Housed in the 1893 Columbia Mill textile building (which is concurrently the largest artifact of the museum), the South Carolina State Museum's many programs and exhibits tell the story of Palmetto State. The many exhibits feature the cultural, natural, scientific, technological and artistic history. Discovery: The Stringer Discovery Center hands-on approach to the historic disciplines of South Carolina is a unique way to learn about the past. (On the corner of Gervais and Huger, Columbia, 29202. 1 (803) 779-8717 or www.museum.state.sc.us)
Connect with the wild side. Riverbanks Zoo and Botanical Garden is a sanctuary for more than 2,000 animals, including several endangered species. Serving families for thirty years, Riverbanks is a place for people to learn about and connect with wild places and the wildlife that inhabit them. (500 Wildlife Parkway, Columbia, 29210. 1 (803) 779-8717 or www.riverbanks.org, info@riverbanks.org)
From Columbia, U.S. Route 1 heads on to Augusta, Georgia. Less direct than its nemesis I-95, it is an easy drive through the countryside.
---
© 2004 Travel Communications, Inc.
Content syndication services provided by TheFamilyTravelFiles.com