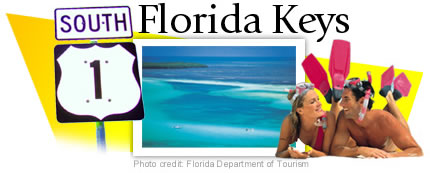 South of Miami, U.S. Route 1 connects a series of keys, each with its own story to tell. Recognized as the Overseas Highway, distance is measured by mile markers for anyone needing to establish a sense of place. The closer to Key West the smaller the number. Along the way are dozens of terrific vacation stops, some of the best are listed below.
See bird life in close quarters. The Florida Keys Wild Bird Rehabilitation Centre is the only place in Florida Keys where visitors may see indigenous bird life in close quarters. The feathered residents include ospreys, hawks, pelicans, cormorants, terns, and herons. The primary goals of the facility include rescue, rehabilitation, and release of ill, injured, and orphaned wild birds. The dedicated staff provides feathered visitors safe habitat and everyone else a unique opportunity to learn about the birds of the Keys while enjoying the beautiful tropical setting. (93600 Overseas Hwy, Tavernier. 1(305) 305-852-4486 or https://www.missionwildbird.com/)
See a coral reef. Whether viewed from a glass bottom-boat or a diving mask, the dramatic underwater terrain and its inhabitants are awesome. Ever changing, John Pennekamp Coral Reef State Park is a premier wild aquarium. The park, plus the adjacent Florida Keys National Marine Sanctuary, cover approximately 178 nautical square miles of coral reefs, seagrass beds and mangrove swamps. (Meaning big, really big!) The park itself extends 3 miles into the Atlantic Ocean and is approximately 25 miles in length. Throughout the year, programs are offered to park visitors on a wide range of natural and cultural history subjects. Nature videos may be viewed at the visitor center. The reef may be enjoyed by glass-bottom boat as well as snorkeling, sailing, SCUBA, canoe, kayak, or motorboat. (Key Largo. 1(305) 451-9570, 1(305) 451-1202 or 1-800 326-3521 or 1(305) 451-1621 or www.pennekamppark.com)
Talk to the dolphins. The Dolphin Research Center on Grassy Key is home to a family of Atlantic bottlenose dolphins and California sea lions. Narrated sessions occur throughout the day and provide oodles of information about dolphin behavior, training, and habits. The facility offers "Hands-on-Training" sessions that include a private course with up-close interaction. Participants have access to the Fish House where the dolphins' meals are prepared, get training first-hand and a chance to practice communicating with the dolphins. Discovery: There is also the option to go behind the scenes for a close-up look at California sea lions. (DRC is located at MM 59 on Grassy Key. 58901 Overseas Highway 33050-6019. 1(305) 289-1121 or www.dolphins.org)
Applaud for sea life. Theater of the Sea is a marine animal park with salt-water lagoons, tropical gardens and many shows and programs designed to entertain and inform. Visitors will see Atlantic bottlenose dolphins, California sea lions, sea turtles, tropical and game fish, sharks, stingrays, crocodiles, alligators, marine invertebrates, and birds-of-prey. Interactive programs include "Trainer for a Day" as well as several dolphin encounters. It is also possible to feed and touch gentle rays in shallow water on a sandy beach or snorkel with the rays and a variety of tropical fish in a natural lagoon setting. (84721 Overseas Highway – Islamorada, 33036. 1(305) 664-2431 or www.theaterofthesea.com)
Get wet in a park. Not a walk in the park, Looe Key National Marine Sanctuary is approximately five nautical miles south of Big Pine Key and is all underwater. Dramatic coral formations, abundance of fish, and the wreck of the H.M.S. Looe, provide snorkelers and divers days of discoveries. The sanctuary is marked by more than three dozen buoys enabling visitors to enjoy a variety of undersea life from dramatic elkhorn coral and massive star coral to schools of blue-striped grunts to toothy green moray eels. (Looe Key National Marine Sanctuary 1(305)-292-0311 or http://floridakeys.noaa.gov)
Spot tiny deer. Big Pine Key is the only place on earth to see the petite (large dog size) key deer in the wild. The National Key Deer Refuge, more than 8,000 acres in total, is the official protected area for the little guys. Not all of them remain within the boundaries but prefer to wander outside the refuge and may be seen on adjacent keys. Similar to the Virginia whitetail, this species is on the endangered list. To officially see them, take the 7/10-mile self-guided nature trail that begins off Key Deer Blvd., north of the Blue Hole, that winds through the refuge area; dawn and dusk are best for viewing the deer. The refuge is open daily from sunrise to sunset and is free to the public. (Big Pine Key Visitor Center 1(305) 872-0774 or www.fws.gov/nationalkeydeer)
Climb to the top. The Key West Lighthouse, predates the city that later grew up around it. Today, a climb to the top of its 80 steps rewards the visitor with a great view of the nearby Ernest Hemingway House and the rest of the downtown area. Visitors are also welcome in the museum, housed in the restored keeper's dwelling. (938 Whitehead Street, Key West or https://www.kwahs.org/museums/lighthouse-keepers-quarters/visit)
Embrace the sunset. Each evening Mallory Square, on the historic waterfront in Key West, is the location of a sunset celebration. The seaport once a bustling commerce center with schooners, and frigates, cigar makers and fishermen, remains linked to its history and connected to the times. It's the place for shopping, dining, and tropical entertainment. (www.mallorysquare.com)
The longer vacation activity menu is available from your KOA Kampground host.
---
© 2004 Travel Communications, Inc.
Content syndication services provided by TheFamilyTravelFiles.com