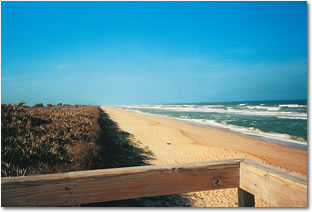 In the shadow of NASA's Cape Canaveral, this seashore offers miles of secluded beaches.
Children laugh and squeal as they frolic in the surf. A few fishermen cast their lines into the waves. Toddlers build sandcastles on lovely stretches of deserted beach while their parents sunbathe.
It's hard to believe that this placid and peaceful scene on the Canaveral National Seashore is neighbored by three very popular tourist destinations-Daytona Beach, Disney World and the Kennedy Space Center.
But that's the beauty of this special place, one of only a handful of national seashores. Covering 57,000 acres and offering 24 miles of pristine beaches, this natural treasure represents the longest stretch of undeveloped seashore on Florida's eastern coast.
If you like hiking, fishing, swimming or just lazing in the sun, this is the place for you. It's also a paradise for bird and plant aficionados.
The park's low-lying barrier island, beaches, lagoon, salt marsh and various waterways are a showcase for 1,045 plant species and 310 bird species.
They also contain 15 threatened and endangered species of wildlife, including sea turtles (you can see them nest here in June and July) and West Indian manatees.
The park was set aside in the late 1950s to serve as a buffer zone for activities at Cape Canaveral. In fact, from the seashore's southern reaches, you can plainly see one of the space shuttle launch pads. (By the way, the park's southern district closes 3 days before a shuttle launch and reopens the day after.)
The park is divided into two districts-north and south. The Visitors Center is at the north end. Here you can see a short video, get questions answered and view interesting exhibits.
Don't miss the Turtle Mound, located near the center along a wooden boardwalk. Standing 35 feet tall and covering 1 acre of land, Turtle Mound represents 600 year's worth of oyster and clamshells discarded by natives. It's one of many mounds, or middens, in the park.
Down the road from the mound you'll find what's left of Eldora, a once-thriving riverboat stopover town from 1887 to 1915. One building, the Eldora Statehouse, has been preserved from that era; inside, you'll find historic photos and artifacts.
History, wildlife, seclusion…it's all here at Canaveral National Seashore. Start a countdown to your first visit!
Fast Facts
Canaveral National Seashore is located between New Smyrna Beach and Titusville on Florida's central eastern coast, east of U.S. Highway 1. For more information, visit the website at www.nps.gov/cana/index.htm.
The park is open daily, year-round. Parts of the park are wheelchair accessible.
More to See… In Ponce Inlet, just north of the seashore via U.S. Highway 1, you'll find the historic, 175-foot-tall Ponce de Leon Inlet Lighthouse. For more information, visit the website at www.ponceinlet.org.
Interested in camping nearby? Check out KOA campgrounds in Florida.
This KOA Travel Information is Sponsored by:
Reiman Publications