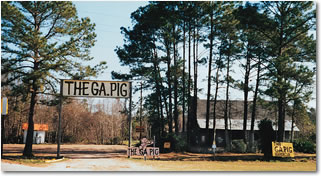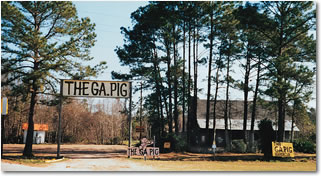 The first time you see the GA. Pig, you might be tempted to keep on driving. But don't be fooled by the restaurant's appearance-it serves some of the best barbecue you'll find anywhere.
The building itself is basically a shack-but it's clean. The barbecue is cooked over an oak fire behind the counter, and the smell alone is enough to make your mouth water.
As you ponder your order, you'll see several helpful signs: "We do not do fries." "Our water is sulfur water." (Consider ordering the bottled water or root beer.) "Clean up your mess before you leave."
The menu is simple: pork or beef barbecue (either a 1/2-pound sandwich or ribs) served with a pickle spear. You can also order sides of baked beans, potato salad, coleslaw and chips. Whatever you choose, you can't go wrong-this is truly great barbecue.
The GA. Pig (1-912/264-6664; 2712 U.S. Highway 17) is in southeast Georgia, roughly 12 miles south of Brunswick. Take Exit 29 off I-95 and head north about a half mile on Highway 17. The restaurant accepts cash or credit cards. Bring an appetite with you!
Interested in camping nearby? Check out KOA campgrounds in Georgia.