By Shirley B., Conway, South Carolina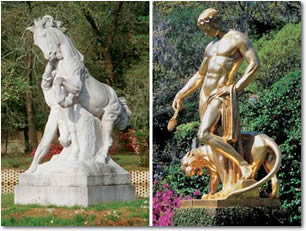 I FOUND a lovely oasis south of Myrtle Beach, South Carolina: Brookgreen Sculpture Gardens, the oldest and largest attraction of its kind in the United States.
Philanthropist Archer Huntington and his wife, Anna, a sculptor, turned the former Brookgreen Plantation into a showcase for art and native plants and wildlife. Opened to the public in 1931, the plantation is on the National Register of Historic Places. A visit here is like stepping back into another era.
Formerly a rice plantation, the 300-acre grounds—set amid a 9,100-acre preserve—are exquisitely landscaped. They're filled with stately live oaks, ponds and fountains, plus 10 colorful garden "rooms" dotted with beautiful sculptures—more than 550 in all! (Shown above are Dionysus by Edward McCartan and Youth Taming the Wild by Anna Hyatt Huntington.)
You could spend hours just following the garden walkways.
For campers, adjacent Huntington State Park offers tent and RV camping (105 sites with partial hookups and 24 with full hookups; www.discoversouthcarolina.com or 1-843/237-4440).
Brookgreen Gardens is on U.S. Highway 17 between Murrells Inlet and Pawleys Island, roughly 20 miles south of Myrtle Beach. It's open daily from 9:30 a.m. to 5 p.m. Admission is $12 for adults age 19 and older and $10 for students ages 13-18.
To learn more, log on to www.brookgreen.org or call 1-800-849-1931.
Interested in camping nearby? Check out KOA campground locations in South Carolina.
This KOA Travel Information is Sponsored by:
Reiman Publications