Don't let the superb Warner Robins Museum of Aviation fly beneath your travel radar.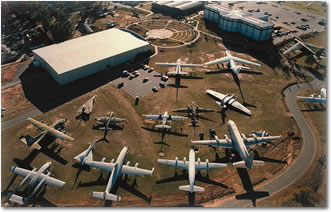 The Warner Robins Museum of Aviation in Warner Robins, Georgia has to be one of the best-kept secrets in the South.
With 43 acres of exhibits indoors and out, it's one of the country's largest aviation museums. You should allow at least 3 hours to see everything-and maybe even a full day or two for aviation buffs.
The museum showcases 93 aircraft, ranging from an 1896 glider to the Mach 3 SR-71 Blackbird. And the stories behind them are fascinating.
Don't miss the outstanding exhibit in Hangar One that pays tribute to World War II's Tuskegee Airmen. Known as America's Black Eagles, they flew more than 200 escort missions without losing a single bomber to enemy attack-an astonishing feat that's never been equaled!
In the Eagle Building, which is shaped like the U.S. Forces stars-and-bars insignia, you can learn about the incredibly brave "Hump" pilots, who flew through horrific weather in the uncharted Himalayan Mountains to supply Allied forces in China during World War II.
The Eagle Building also houses a snack bar called the Victory Cafe and an observation deck that offers a great view of the aircraft on display outdoors.
The 66,000-square-foot Century of Flight Hangar houses many of the museum's historical aircraft, like the U-2 Dragon Lady and the B-29 Superfortress.
After you visit, you'll certainly agree that this museum is definitely a top-flight attraction!
Fast Facts
Warner Robins is in central Georgia at the junction of U.S. Highway 129 and State Highway 96, roughly 17 miles south of Macon and 10 miles east of I-75.
The Warner Robins Museum of Aviation is next to Robins Air Force Base, but has its own entrance at 1942 Heritage Boulevard. From I-75, take Exit 146 and follow Watson Boulevard east for 7 miles until it dead-ends into Georgia Highway 247. Then go south for 2 miles to the museum. For details, visit the Museum of Aviation online at www.museumofaviation.org.
Interested in camping nearby? Check out KOA campgrounds in Georgia.