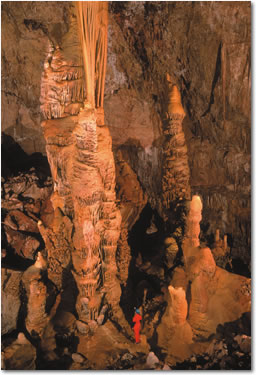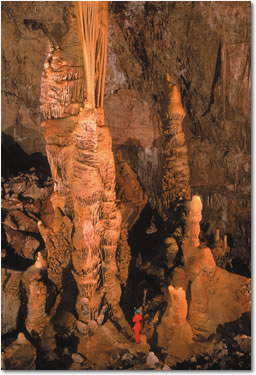 There are many commercial caves in North America. But little-known Kartchner Caverns State Park in southeastern Arizona ranks right up there with the best of them.
Amateur spelunkers Randy Tufts and Gary Tenen discovered the stunning limestone cave in 1974. Concerned that a crush of unregulated visitors would ruin it, they kept the cave a secret for years while they worked to turn it into a state park.
Their dream came true in 1988, when the park-named for the family that owned the land-was born.
Two different tours are available. The first focuses on two caverns as big as football fields: the Throne and Rotunda Rooms. The second tour, which opened in November 2003, centers on the aptly named Big Room-400 feet long and 240 feet wide!
After riding a tram to the entrance, you'll enter three air-lock chambers. They drastically minimize the entrance of outside air and foreign materials, which can damage the formations.
The Big Room will leave you awestruck as you marvel at fantastical formations with weird names like bacon draperies, flowstone, helictites, turnip shields, brushite moonmilk and soda straws-not to mention your every day stalactites and stalagmites.
The Strawberry Room is especially striking, marked with iron oxide-tinted flowstone in intense reds and oranges.
It's truly a thrill to see this spectacle that Randy and Gary fought so hard to preserve.
Fast Facts
Caverns State Park is on the west side of State Highway 90, about 9 miles south of I-10 (Exit 302) and roughly 50 miles southeast of Tucson. It's open year-round and is wheelchair accessible.
Reservations are recommended.
Interested in camping nearby? Check out KOA campground locations in Arizona.