By Janice Austin, Salinas, California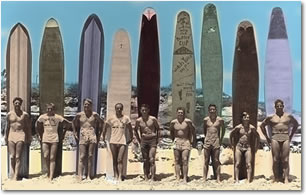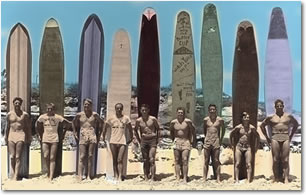 I'VE NEVER tried surfing. But I dove right into the sport's history at the Santa Cruz Surfing Museum in Santa Cruz, California, overlooking the famous Steamer Lane surfing spot.
Housed in a little brick lighthouse and staffed by surfing enthusiasts, the museum showcases surfing memorabilia donated by area surfers. You'll see early surfboards, wetsuits, patches, surfing-movie posters and other surf-culture memorabilia.
I was fascinated by how surfboards have progressed from redwood planks weighing up to 100 pounds to today's high-tech designs. Don't miss the board bitten by a great white shark!
I also enjoyed viewing photographs of local surfers from the 1930s through the present (that's the 1941 Santa Cruz Surf Club shown above).
Santa Cruz is at the junction of State Highways 1, 9 and 17, about 27 miles south of downtown San Jose. The museum is located at 701 W. Cliff Drive.
For more information, call the Santa Cruz Parks and Recreation Department at 1-831-420-6289 or visit our links page.
Interested in camping nearby? Check out KOA campground locations in California.