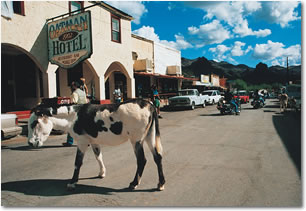 Wild burros turn Arizona town into a walk on the wild side.
The historic gold-mining town of Oatman, Arizona, is a great place to stop if you're traveling on Old Route 66. Just be prepared to stop your vehicle for wild burros!
Established in the early 1900s, the town is named after Olive Oatman, a pioneer girl who was kidnapped by Apache Indians. The dozen or so burros that roam the town's street are very entertaining.
Some of the shops sell carrots or other treats to feed to the burros, which are descendants of beasts of burden originally brought here by miners as pack animals. But be warned that they're wild animals, so you feed them at your own risk.
Shops and wooden sidewalks line the main drag. Talking with the friendly shop owners is very rewarding. Some will even offer to mail your purchases home.
The Oatman Hotel is a must-see. Built in 1921, this is where Clark Gable and Carole Lombard spent their wedding night. For $1, you can see their honeymoon suite! Particularly fascinating is the hotel's Grand Ballroom, surrounded by a virtual museum of relics from bygone days.
Oatman is far off the beaten path and totally immersed in bygone days. By no means a flashy destination, it'll be one of the highlights of any trip to Arizona.
Fast Facts
Oatman is on U.S. Route 66 in northwestern Arizona, about 12 miles southeast of Bullhead City. For more information, visit Oatman Chamber of Commerce online at oatmangoldroad.org.
More to See… Chloride, an old silver mining town founded in 1862, is now home to roughly 250 artisans and craftsmen that live and work in restored historic buildings. It's located about a 45-mile drive north of Oatman and about 80 miles southeast of Las Vegas, about 4 miles east of U.S. Highway 93. Don't miss the 100-foot-high murals painted on the cliffs outside of town. To learn more, visit the Chloride Chamber of Commerce online at www.chloridechamber.com.
Interested in camping nearby? Check out KOA campgrounds in Arizona.