This little-known park gives new meaning to the words, "tunnel vision."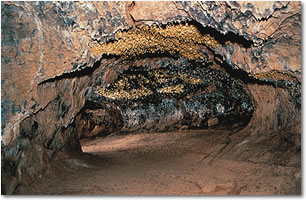 Every year, millions of people visit popular national parks like Yosemite and Yellowstone. In the process, they overlook amazing places Lava Beds National Monument, tucked away in the northern reaches of California's high-desert.
Lava Beds offers fascinating natural sites mixed with intriguing history and abundant wildlife. Better yet, you won't have to contend with hordes of people.
The park's primary attraction is its labyrinth of underground corridors, caves and tubes formed by lava from the nearby Medicine Lake volcano. The Park Service has built stairways and provides lanterns so you can explore the 300 or so tunnels, some of which extend hundreds of feet in a myriad of shapes and formations.
Most of the caves can be explored with little exertion. The prettiest, the appropriately named Golden Dome (shown in photo), sports a dazzling display of gold algae on the ceiling.
The only time Lava Beds received any sort of national attention was almost 130 years ago. That's when 53 Modoc Indian warriors and their families held off more than 1,000 U.S. Army soldiers by hiding in the fortress-like lava caves for 5 months before surrendering. Once you visit, you can understand how this was possible!
Wildlife is abundant. Keep your eyes open for mule deer, black-chinned hummingbirds, scrub jays, jackrabbits and golden-mantled ground squirrels!
In late spring, the barren desert is sprinkled with red desert paintbrush, purple sage and blue penstemon. These and other wildflowers grow profusely along the above-ground hiking trails. The 2-mile trail to Schonchins Butte, the highest point in the park, is especially pretty-and the view from the fire lookout atop the butte is amazing!
Fast Facts
Lava Beds National Monument is near the Oregon-California border, just south of Tulelake via State Highway 139.
Visitors should dress warmly and wear protective headgear while exploring the lava tubes; the Visitor Center sells caving "bumpcaps." For more information, visit Lava Beds National Monument online at www.nps.gov/labe/index.htm.
More to See… Crystal-clear Medicine Lake, a crater formed by the volcano that created the lava beds, is less than 15 miles south. Glass Mountain, just east of the lake, is a jagged obsidian flow created by the same volcano. Be careful here-the jet-black rocks are as sharp as glass. Maps and directions to both sites are available at Lava Beds Visitor Center.
Interested in camping nearby? Check out KOA campgrounds in California.